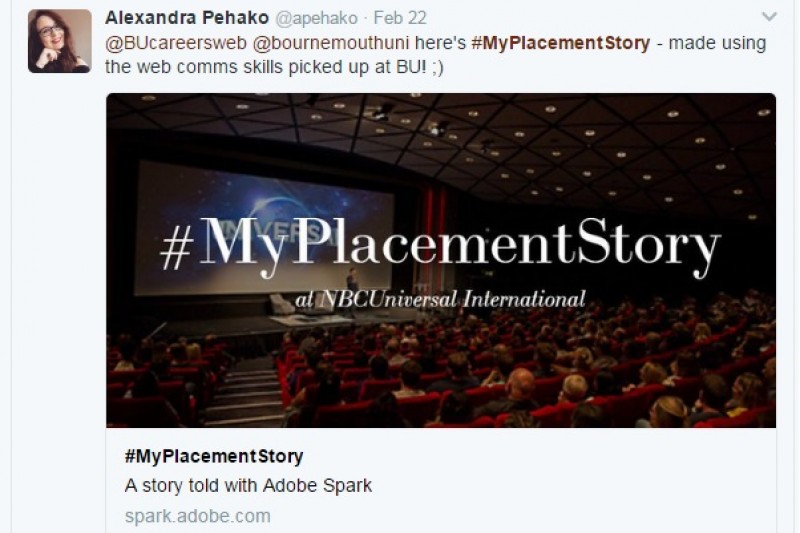 A Bournemouth University (BU) campaign - #MyPlacementStory - has highlighted the contribution BU placement students make in the workplace and the added value this experience brings as part of their course.
BU students and alumni who are currently on work placements, or who have previously completed a work placement as part of their course, were asked to share their experience across social media using #MyPlacementStory, for the chance to win a range of prizes.
With over 50 entries, messages were sent by students on local, national and international placements ranging from the NHS, NBCUniversal International and the New Forest National Park. The below winners have been selected and will receive the following prizes, which have been chosen to support them in the workplace;
Alexandra Pehako (NBCU International) - Tailor-made work outfit
Laura Castell (NHS) - £250 towards a professional development course of their choice
Grant Sired-Hutson (CH&Co) - £100 footwear voucher
Molly Wooders (Social Media role in Spain) - SportBU gym membership
Josie Hagan (New Forest National Park) - SportBU gym membership
The #MyPlacementStory campaign features short videos showcasing the range of placements BU students undertake – from marketing roles at Warner Bros and Microsoft to an Insight Analyst at Virgin Media and a Lab Technologist at DrinkCreate.  
Bournemouth University offers more work placement opportunities to undergraduate students than any other university in Great Britain, with the campaign highlighting the opportunities available for BU students.
BU has a reputation for the added value it gives students as a part of their study, with a recent Guardian University league table showing BU to be fourth in the UK for the value it adds to its degrees*.
James Harrison, who is currently on placement at Warner Bros and features in the campaign, said:
"My average day is very varied, I can be doing anything from reviewing marketing plans for all the different countries, right through to improving creatives for online adverts, and many other things including market research.
"I'm really picking up a great wealth of experiences, right from time management to how to be more organised with things, through to a lot of industry knowledge, specifically about the film marketing industry, but also just general knowledge." 
Bournemouth University's Careers and Employability Manager, Linda Ladle said:
"BU is proud to offer every single [undergraduate] student the option of a placement. We have whole teams of dedicated staff to help students in both securing placements and whilst they are working and we believe this support sets us apart from any other university.
"We are always hearing from employers who have been inspired by our students". 
Bournemouth University has strong placement relationships with employers across the globe: in 2015, 1,199 of BU students benefited from 30-week placements – more than any other university in England. 
To watch the #MyPlacementStory videos and to find out more about the campaign visit www.bournemouth.ac.uk/my-placement-story.
*Statistics taken from Guardian University League Guide 2017.