A project involving Bournemouth University (BU) students won the Excellence in Research Presentation category at the Media Research Awards hosted by Mediatel last month.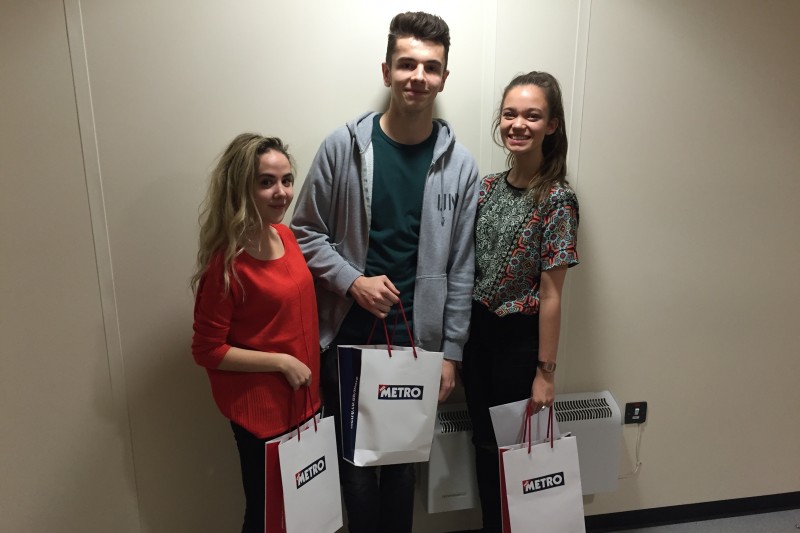 The Millennial Rules Project, led by the Mail Online and the Metro, aims to find out how Millennials use the mediaStudents from the BSc Marketing and BA Marketing Communications were selected, with ten others, to participate in the project by attending a workshop led by The Mail Online and the Metro.
Thanks to qualitative research like these workshops, the project has found the eight key traits of millennials including their ideas about progression, social perfection and experience as social currency. The project leaders believe these insights can be used by advertisers, employers or even universities to improve messaging to a millennial audience. Their findings are published in infographics and full slides that can be viewed on their website here.
Jack Goss, Iona Kelly and Emily Richardson represented BU at the workshop and won £1,000 as they impressed the project coordinators with their marketing insights.
The opportunity to participate in the both the workshop and the project, was facilitated by the Marketing Society.  The society's President, James Harrison, said: "This was a really great opportunity for our members and the Marketing Society is pleased to have helped make it happen. We continually strive to organise events and opportunities that inspire our members and develop their knowledge of marketing and advertising."
Another catalyst for this fantastic opportunity was a guest talk delivered by Neil Sharman, a freelance researcher, for the Consumer Culture and Behaviour teaching unit led by Dr. Georgiana Grigore from the Faculty of Media and Communications. Neil is the research consultant for The Millennial Rules project and was key in getting Bournemouth University students involved in the workshops.
Neil, who also attended the workshop, was really impressed with the students. "We learnt lots from the insights the students produced. They represented BU and their generation brilliantly." 
The project's win at the Media Research Awards is excellent recognition of the hard work from all those involved.
Students worked together with industry experts from media organisations and their tutors to co-develop and co-create excellent research. This is a fantastic example of fusion activity involving research-led teaching, student insight and industry collaboration.