The BFX Festival, a festival bringing the best of the visual effects, animation and gaming worlds to the South Coast, is returning for its fifth year.
Running between 2-8 October 2017 at the Bournemouth International Centre (BIC) the Festival promises to bring insight into some of the best games, films and animations from the last 12 months.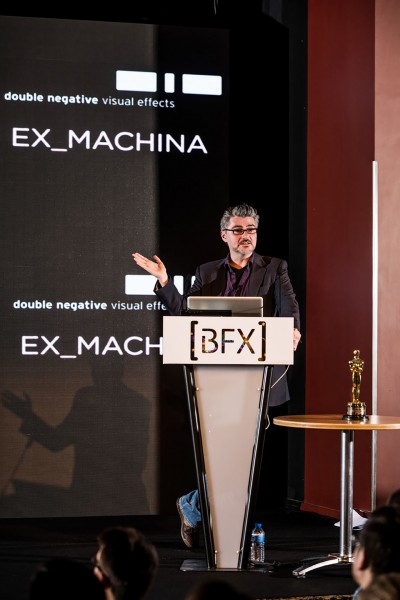 In previous years' delegates have been treated to behind the scenes footage from films such as Star Wars: The Force Awakens, Interstellar, The Lego Movie, and Moana, and films set to feature in 2017's Festival will be released shortly.
Last year, Bournemouth University graduate Mark Ardington even returned to the Festival to talk about his work on the Academy Award-winning film Ex Machina, bringing the Oscar he won with him.
Festival Director Sofronis Efstathiou said, "This year will be our fifth anniversary, so this is going to be a very special year. We have involvement from the biggest studios in the world, superstars of the visual effects, games and computer visualisation industries keen to share their work and give insights into some of the biggest and best projects in the last year – there will be something for everyone, with a real behind-the-scenes look at the work that goes into creating a top Hollywood blockbuster, triple AAA game, award winning commercial or indie title."
The BFX Festival is one of a small number of events in the UK that brings together key players from the visual effects and computer games industries and last year over 1,000 delegates, ranging from students, graduates and industry professionals to families and local residents came to enjoy some of the hands-on activities, industry talks and workshops.
The Festival will comprise a talks and workshops from industry professionals on how the best films and games of 2016 and 2017 have been made.  In addition to previous years, the Festival will also include subject such as sound production and cinematography as a broad range of film making techniques are explored. In previous years, the talks have been conducted by production houses such as Framestore, MPC, ILM, Disney, Animal Logic, Creative Assembly, Sony and Pixar to name a few.
The Festival will end with a family weekend, where children and adults can try their hand at doing their own animations, watch films and engage with the visual effects industry.
Sofronis Efstathiou continued, "If you have been to BFX before then you know we go to great lengths to showcase and represent the finest work from around the world, from some of the world's biggest names – this year will be no different. If you've never been before, then keep a lookout for this year's schedule, this is an event that truly has something for everyone."
In addition to the Festival, the BFX Competition for students also takes place, with winners announced at the Festival itself. The Creative Vision Award, an initiative alongside accountancy firm Kingston Smith, is open to all students. This year, teams will be competing to create a bespoke animated short film for one of two charities: Re-cycle and Debra.
The two charities were announced as winners of the Kingston Smith Creative Vision Award, which means each will have visual effects films created for them by the BFX Competition entrants.
Anjali Kothari, Not For Profit partner at Kingston Smith, said: "The response from a wide range of charities to our annual Creative Vision Award was fantastic. We are delighted with the impact this initiative has had on all of our previous winners, and proud to be able to give something meaningful back to these great causes. Kingston Smith is committed to supporting the sector by giving charities access to the benefits of an animated brand film, thanks to our partnership with Bournemouth University."
The competition was launched at BAFTA in 2012 and invites students and recent graduates from around the country to compete against briefs to create animated videos, under the watchful eye of industry practitioners from some of the best visual effects companies in the world, including Framestore, MPC and Double Negative.
For more information about the BFX Competition, and the BFX Festival, visit www.bfxfestival.com. For further information about the Creative Vision Award, please visit www.kingstonsmith.co.uk/cva.