The 'Pitch at the Pitch' challenge saw BU students pitching their business plans to a panel of entrepreneurs and experts for the chance to win one of five £1000 prizes this week. 
The event took place at the home of Premier League AFC Bournemouth, celebrating BU's partnership with the football club, inspiring the students with what hard work and determination can bring. The ten finalists pitched for half an hour each in a Dragon's Den style set up, sharing ideas ranging from creative technologies, to fashion branding and catering.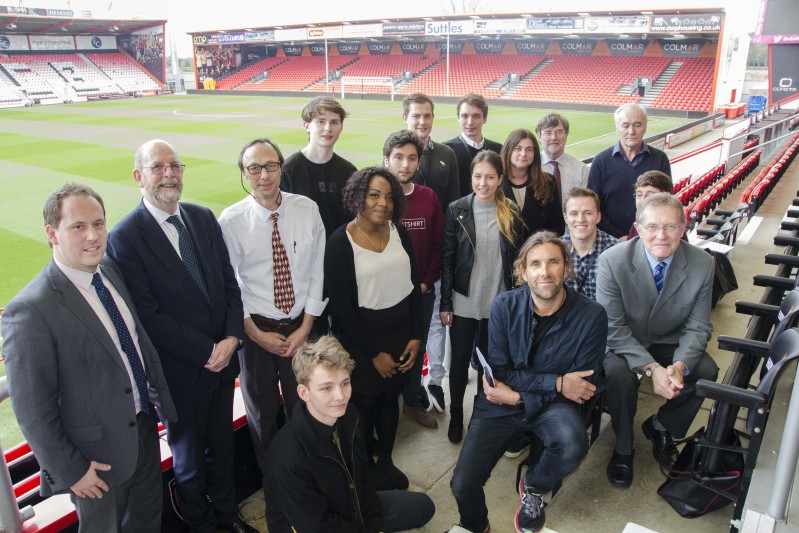 Each of the five prize winners - Pauline Shabani, Matthew Hilson, Juan De Mata Rovey & Iain Christian, Oscar Newman and Ellie Periera - were awarded £1,000 and all who took part were awarded a year-long membership to the Institute of Directors by BU's Careers & Employability Service as well as the free business advice offered by the Dorset Growth Hub.
Pauline Shabani took part in the challenge last year, and was proud to have won this year after taking on board the panel's previous feedback, commenting "My plan last year was focused on a pop-up restaurant, but one of the judges' biggest concerns was the food wastage, so I went back to the drawing board and looked at how to improve my business plan. I'm now running a catering business, successfully trading as Wooden Spoon LDN catering. I learned a lot last year so felt more confident coming back".
Pauline returned to BU in January after graduating in 2016 to study her Master's, adding "I'm now studying MSc Innovation Management & Entrepreneurship at BU. Combining my studies with this opportunity to run my new business model past a panel of experts, has increased my confidence in both my business and my ability to seek out funding for some much needed catering facilities!". 
Nick Hixson commented on Pauline's achievements, saying: "Persistence prevails, which is important to learn. Setting up a business is a marathon not a sprint - even though it might often feel the opposite!
The expert judging panel was made up of Lucy Cooper from Dorset Growth Hub; Matt Coates from Santander; Nick Hixson from Hixsons Business Advisors; Professor Nigel Jump, Professor Jim Roach and Keith Pretty from BU; and Richard Davies from Platinum Asset Management Ltd.
Professor John Fletcher, Pro-Vice-Chancellor for Research & Innovation at BU, spoke to the finalists saying: "There were lots of applications for this challenge so you should be proud to have made it this far and I want to thank Santander's Universities department for their investment in university innovation and entrepreneurship. All of you have potential to be successful entrepreneurs in the future".
Students interested in discussing business ideas can visit Louise Soan, Santander's university branch manager, at the Talbot Campus throughout the year or contact Louise on [email protected].  
BU has strong links with businesses and offers all undergraduate students the opportunity to undertake a work placement as part of their course. BU students have a high employability record, with 93.3% of BU graduates in work or further study six months after graduating, according to the latest Destinations of Leavers from Higher Education (DLHE) survey.