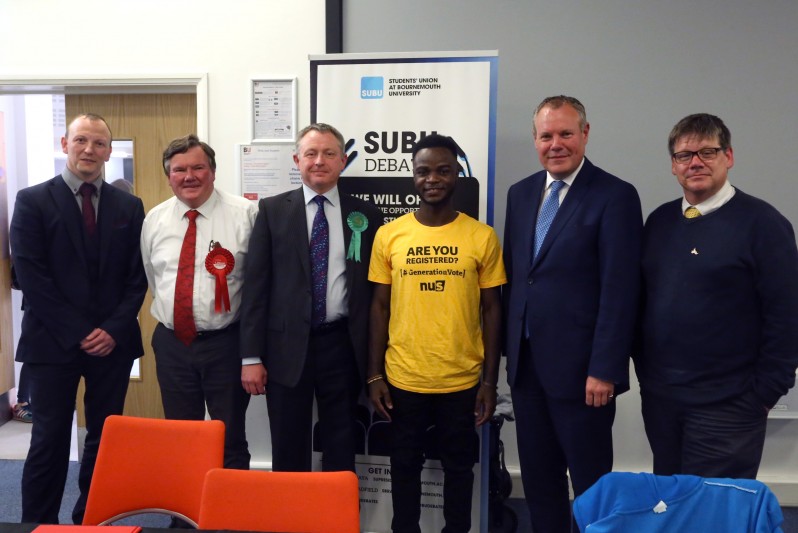 Candidates competing for the Bournemouth West constituency took part in a Student Union Bournemouth University (SUBU) election debate held in the Marconi Lecture Theatre at BU's Talbot Campus.
The debate for Bournemouth West has so far been the only hustings of its kind in the area, with all five candidates in attendance. The event was televised live over YouTube by SUBU's Nerve TV.
The candidates taking part in the debate were Green Party candidate, Simon Bull, Liberal Democrat candidate Phil Dunn, Labour candidate David Stokes, Pirate Party candidate Jason Halsey and Conservative candidate Conor Burns.Chaired by SUBU President, Daniel Asaya, the debate saw candidates make a brief opening introduction before debate took place over questions sourced from the sixty-strong audience, comprising students and staff from AUB and BU. 
Commenting about voting among young people, Phil Dunn, a local teacher and Liberal Democrat candidate for Bournemouth West suggested that students were already "engaged and onboard with the whole process" of voting, but stressed that he felt this was the "most important election" he'd ever taken part in, with the country voting about the "foundation that our country has rested on for the last forty-five years."
Conor Burns, candidate for Bournemouth West, in responding to a question about his voting record being within the interests of students remarked: "I make no apology for promoting Bournemouth University… Bournemouth University is a major driver to our local economy."
He continued to stress that the university had a "vital role" in the local area, and that the current funding system led to "record investment and expansion in the numbers of people going to university".
Jason Halsey, candidate for the Pirate Party, answering a question about the privatisation of the NHS, said: "Privatisation of the NHS, most parties are against this idea. We [The Pirate Party] feel it's a social right so that the NHS be there to protect us." He also suggested that the party had an awareness of an "ageing population", and that "most people surveyed were generally quite happy to pay a little bit more to actually protect the NHS in its current format."
David Stokes, the Labour party candidate addressed a "constant need for nurses and doctors", with a need to "encourage more people to come into nursing… nursing bursaries are absolutely essential." David also addressed the topic of university, stating that "a number of students that come here to university, stay on in the town, are very good entrepreneurs and grow businesses around here."
Simon Bull, a current Green Party councillor in Winton, and Green Party candidate for Bournemouth West said he also believed tuition fees should be scrapped, with "many people being scared of being in so much debt". He also alluded to National Union of Teachers (NUT) statistics which stated that "schools would lose £3billion in real terms by 2020" if the current policy continues.
Questions were also posed to all of the candidates about the salaried amounts of income for members of parliament, and also the feasibility of undertaking work in addition to governmental responsibilities. Students were also keen to hear from candidates about their intentions around letting, housing and the regulation of landlords. The international implications of the UK's departure from the European Union were also posed to the panel.
Students can register to vote in both their home and term-time addresses before midnight on Monday 22 May, though are only able to vote once. If you wish to know more about the voting process or would like to know how your vote can make a difference, visit www.bournemouth.ac.uk/election