Bournemouth University (BU) is celebrating its third full season as official Higher Education partner of AFC Bournemouth (AFCB) as the club achieve their highest ever Premier League end of season position.
BU's partnership with AFCB spans back many years, but a formal partnership starting in 2013, when the club was promoted from League One to the Championship. This was then followed by a record-breaking year in which the club experienced unprecedented success as they rose to the top-tier of English football, the internationally-followed English Premier League (EPL), in 2015.
This success continued into 2016, with AFCB retaining their place in the Premier League and now in 2017, achieving a top ten spot, the highest finish in the Club's history, heralding a new era of achievement as international interest in the club, and by extension its location and partners, grows.
The partnership, which looks to expand the international reach and influence of both the university and club, has seen a range of events and opportunities open to BU staff and students. This included a visit from AFC Bournemouth manager Eddie Howe, who came to BU to look at the new Sports Performance Laboratory on Talbot Campus before taking part in a Q&A event with students on sports management courses.
Speaking at the visit, Eddie Howe said, "The facilities are excellent, cutting edge technology, it is really good to see BU progressing so well. It is really important that the community works together; if there are things the football club can do to promote the university, and things the university can do to promote the football club, it's a really nice link.
"Hopefully we can generate the next generation of Bournemouth supporters through the university and, likewise, we can help facilitate the future careers of young people in Bournemouth."
He added: "Looking at the students today I thought they were fantastic, I thought they were very knowledgeable and you could see how keen they were. I think the future is bright for them and for Bournemouth University."
BU students also visited Poole High School with AFCB Commercial Director and BU graduate, Rob Mitchell, who spoke to students about his career in football and time spent studying for a degree in Leisure Marketing at BU.
In April, AFC Bournemouth top scorer Josh King visited BU, where he met children taking part in Sport BU's Kids Camps and spoke to BU international student Mats Hjertum, a fellow Norweigan, who competed his placement year with the Norweigan FA.
BU was also instrumental in helping AFCB meet its Equality Standard commitments, put in place by the EPL, which saw BU's Equality and Diversity Adviser, Dr James Palfreman-Kay, deliver two sessions on equality and diversity to 100 match day stewards.
The first session discussed communicating with disabled people who may visit the ground, which prompted a wide ranging discussion between the Stewards on accommodating the needs of fans. The second presentation looked more broadly at equality and diversity issues.
Liz Finney, General Manager at AFC Bournemouth said: "James made sure the training was pertinent to the stewarding role and the discussion was often lively.  I felt the evening was relevant and enjoyable to those who attended and James delivering the training is another demonstration of the strong partnership ties between the club and BU."
The partnership provides real opportunities for students to engage with the club too. BU media students are invited to attend press conferences and matchdays to report on the games and provide coverage for student media, getting access usually reserved for journalists. The club also uses a number of student volunteers on matchdays, both in the media team and as ambassadors to help supporters around the stadium.
BU's men's and women's football team are coached by AFC Bournemouth coaches, giving them access to Premier League quality training as they play for the university team. Students and staff also engage in a number of volunteering opportunities that benefit the local community.
BU also held its popular BU Big Match event for a second season, which saw AFCB emerge victorious in a one-nil clash against 2016 EPL champions, Leicester City. The event also saw a number of BU students attending, both as spectators and as BU Ambassadors working in locations around the Vitality Stadium.
Pitch at the Pitch, a collaborative initiative between BU and Santander, offered budding entrepreneurs the chance to pitch their business ideas to local business leaders, with five £1000 prizes awarded in a competition staged at the Vitality stadium.
Internationally the partnership raises the profile of Bournemouth, and BU was one of only three UK universities selected by the British Council to host 60 football coaches from China for 3 months in 2016. Building on this link a number of staff and students visited China, as part of the Bournemouth's Global Festival of Learning programme.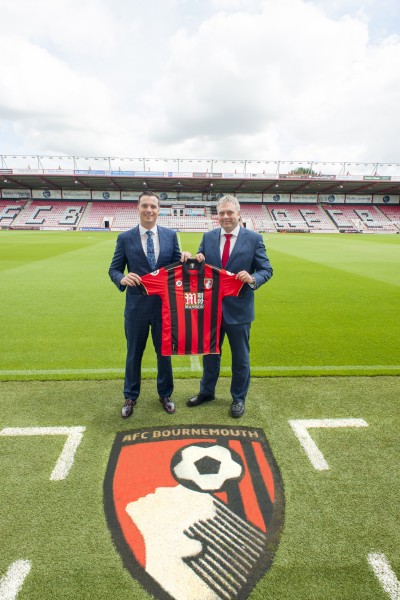 BU was at China's Capital University of Physical Education and Sports (CUPES) to share ideas on sports-related issues in Beijing. During the one-day event, sports experts and players from the two countries shared views on topics such as the overall sports development in China and the status of women athletes in China and the UK, followed by a panel discussion of Chinese soccer development in the afternoon. This discussion featured six of the 60 coaches who came to study on the Bournemouth University Football Study Programme and are now working across China. The Global Festival of Learning received coverage in China Daily.
Commenting on the partnership Jim Andrews, Chief Operating Officer of Bournemouth University, said: "It has been a pleasure to follow AFC Bournemouth this season, and to see Bournemouth celebrate its football team and their continued success on the global stage of the Premier League. BU has also received international recognition this season, as one of the 'top 200 young universities in the world', in the Times Higher Education World University Rankings 2017, and we have also risen up the leagues in both the Times and Guardian university rankings, showing that both the university and the football club are on the rise, with growing reputations internationally."
He added: "It has been great to see the university and the football club work together in partnership, and our partnership has been of benefit to both parties, and the local community, and I personally want to add my congratulations to AFC Bournemouth for their most successful season so far in the Premier League."
For more information about Bournemouth University's partnership with AFC Bournemouth, visit the university's dedicated hub page.