The inaugural British Universities and Colleges Sport (BUCS) Beach Volleyball Championships will take place at Sandbanks this weekend.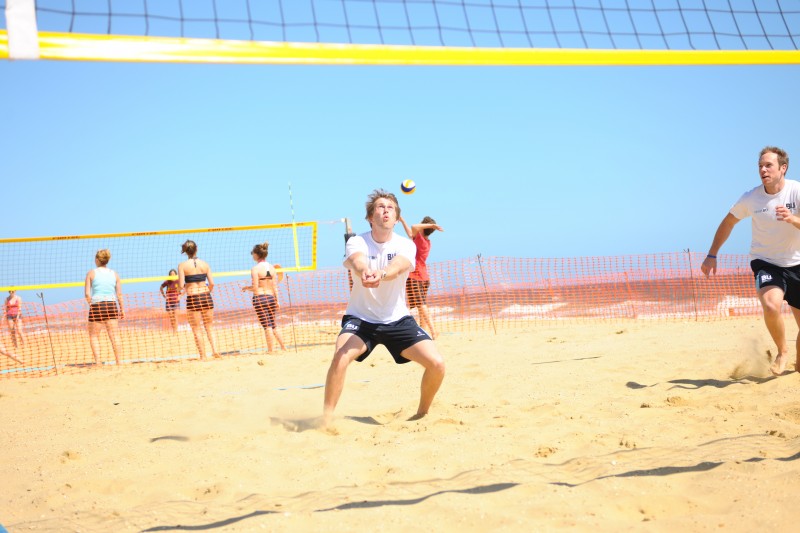 Hosted by Bournemouth University (BU), the competition has attracted 87 pairs across three levels – Championship, Trophy and Shield. A further 13 mixed teams will play in the recreational 4v4 event.
Mark Brian, Head of Sport Programmes at BUCS said: "BUCS is delighted to have brought Beach Volleyball into our programme this year and with Volleyball England and Bournemouth University delivering the event the inaugural BUCS Championships is set to be a fantastic couple of days of competition, with some top athletes taking part.
"Our hope is that the event continues to grow on the back of this first year, with more institutions represented and the competition contributing to the growth of the sport in the UK."
The competition runs across Saturday 3 and Sunday 4 June at Sandbanks, Poole. The event is open, with members of the public invited to go along and watch.
Barry Squires, Business & Partnership Manager for SportBU, said: "We are very pleased to be hosting the BUCS Beach Volleyball Championships this weekend. It's a great opportunity to showcase our beautiful coastline and provide some local support to our talented student athletes who will be representing Bournemouth University.
"Beach Volleyball is a focus sport for us at BU so it's great to be able to host the championships and in doing so promote the sport to the wider community and grow its following for future participants."
The newly established BUCS Beach Volleyball Championships reflects the increasing interest and profile of beach volleyball in the student sector, with BUCS points available to be won by institutions.
Both men's and women's competitions have the potential to deliver some intriguing ties. BU is represented by number 1 seeds Batrane and Jones in the men's Championship event. Last season, Batrane competed at the World University Games in Estonia, while Jones competed at the CEV U22 Championships.
With Northumbria's Cook focussed on gaining qualification for the 2018 Commonwealth Games, representing Scotland, competition is certain to be fierce. Also, last year's Beach Student Cup semi-finalists from Oxford University, Anza and Novotny, have returned to try and go one better so the men's event promises to deliver some top quality competition.
Northumbria University pair Blomgren and Vlasic have been given top seeding in the women's Championship. 
Samantha Jamieson, Core Market Officer for Volleyball England, said: ""Several organisations, ourselves included, have been lobbying in recent years to have Beach Volleyball included within the BUCS programme. We are therefore delighted to see that everything has now come together to make this a reality in 2017. This represents a significant step forward for the sport in this country. Having the incentive of BUCS points on offer makes it more likely that universities will now invest yet more time, effort and money into the sport. 
"With Beach Volleyball also making it into the Commonwealth Games for the first time – at both junior and senior level – the timing could not be better. For that reason, we are hugely excited about working with BUCS to help deliver this weekend's event."
For more information visit the BUCS website or follow the event live via social media using the official hashtag: #BUCSbeach