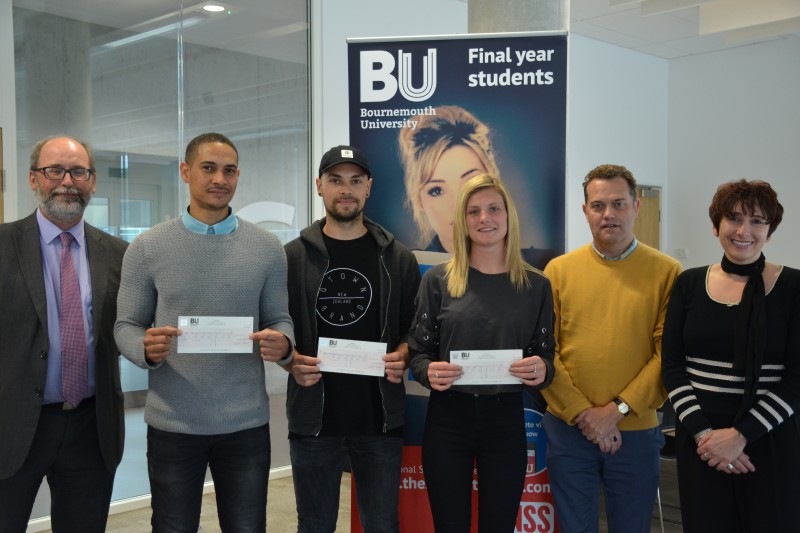 Congratulations to the lucky winners of the National Student Survey (NSS) prize draw.
Prizes from the NSS 2017 included cash, a made-to-measure suit from local business, Fox Tailoring, and a top of the range iPad Pro, purchased from local Solutions Inc in Bournemouth town centre, and were awarded to students by BU staff on 5 June.
Joe Hysa, BSc (Hons) Psychology student, said: "I really didn't think I'd win anything but am really grateful to have be able to wear a tailor made suit for interviews - and I'll definitely be wearing it to my graduation ceremony".
Professor Michael Wilmore, Executive Dean of the Faculty of Media & Communication, presented the prizes to the lucky students, who were drawn at random by Ipsos Mori (the company the government commissions to run the survey), saying: "I'm really pleased to be here today, and I thank you  - and all our students - for completing the survey. It's really important to get feedback from you to make sure we continue to offer a great experience to the students that come after you."
While we were sad that three of our winners weren't able to attend, we were pleased to hear it's because two have already left Bournemouth for work, while a third was attending an interview! BSc (Hons) Product Design student - and cash prize winner - Jorge, will be here for a few more weeks as he is presenting his final year project at the BU Design & Engineering Show in July - pop along if you're still in the area! 
This event also celebrated an excellent NSS response rate with 74.6% of all eligible BU final year undergraduates completing the survey, 6% higher than the national average. The NSS is open to all students on BU courses and results will be published in August.
Barbara Dyer, Chair of BU's Student Voice Committee explained "It's so important for our students to complete the NSS – getting this feedback each year really helps BU to understand the student experience and to make sure we adapt as the needs of our students evolve."
Results are also publicly available to prospective students and their families to help them make informed choices of where and what to study.