The UNIBUS service is celebrating its one millionth passenger with a 10 per cent discount on annual key cards.
BA (Hons) English student Chris Madders became the one millionth passenger to use the UNIBUS service since its launch in August 2016.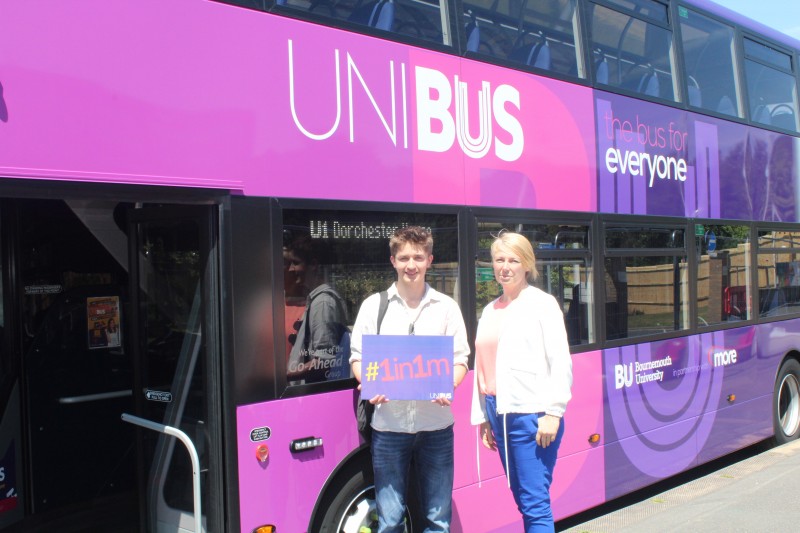 To commemorate the landmark, Chris received a £50 shopping voucher from BU's Assistant Chief Operating Officer Rebecca Davies and Nikki Honer, Head of Marketing at Go-Southcoast.
Chris said: "I can't believe it, I travel on the U3 to Charminster most days and I was shocked when I found out that I was the millionth passenger to travel with Unibus. I like the service, it's reliable and the new buses are very comfortable."
To celebrate its 1 millionth passenger, existing UNIBUS annual key card holders who are considering renewing their UNIBUS annual key card for the 2017/18 academic year, can now benefit from a 10% discount for 'early bird' purchases made by 31 August 2017.
During this period the cost of an annual pass will be £225 -a £25 saving on the normal £250 purchase price.
The UNIBUS annual key card gives access to all UNIBUS and more bus network zone A services to help with travel to campus and around the local area, as well as all of the UNIBUS services.
From Monday 26 June, the Talbot Woods/Talbot Manor bus stop on route to Talbot Campus will no longer be serviced by the U1, U3, or U4 services.
Passengers for Talbot Campus will need to alight at the Wallisdown Road or Fern Barrow bus stops for Talbot Campus. This operational change is being implemented to help facilitate the Talbot Campus infrastructure works. 
Rebecca Davies, BU Assistant Chief Operating Officer said: "I was delighted to welcome our millionth UNIBUS passenger. The UNIBUS service is an important part of the BU Travel Plan and provides the perfect and affordable solution to reducing air pollution."