Academics from across the UK have joined forces to publish a robust analysis of the 2017 UK election.
Over 100 academics from across 58 institutions contributed to the publication, titled 'UK Election Analysis 2017: Media, Voters and the Campaign', which captures immediate thoughts, reflections and early research insights on the election from a range of experts and commentators.
Edited by Bournemouth University academics Dr Einar Thorsen, Dr Dan Jackson and Dr Darren Lilleker, the book includes analysis of the campaign, the role of the media, and the power of personality in politics.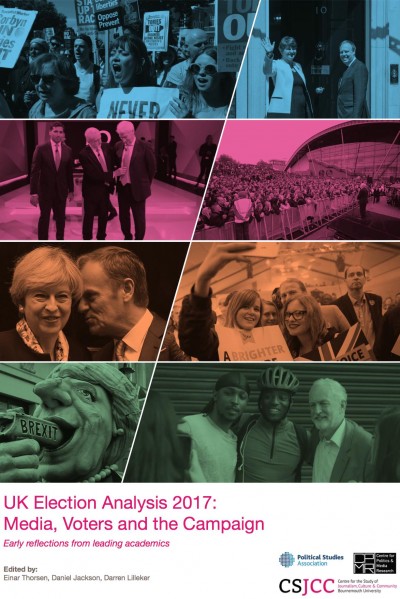 The impact that Brexit had on the outcome of the election also features in the analysis, with Brexit negotiations set to begin in mid-June.
Editor Dr Dan Jackson, Associate Professor of Media and Communication at Bournemouth University, said, "This election showed that contrary to received wisdom, campaigns can matter. The question, then, is how the polls narrowed so dramatically during the course of the campaign.
"Here, we need evidence and analysis from experts in their fields. And this is exactly what this publication delivers: a deep dive into the period leading up to and after the election; everything from the rise of the youth vote, to the role of the media (legacy and social). This report shines a light on the highs and lows of an election campaign few initially predicted, not least Theresa May."
Another editor, Dr Einar Thorsen, Associate Professor of Journalism and Communication at Bournemouth University, said, "The analysis also covers the rise of Labour, the fall of UKIP, the campaigns in Northern Ireland, Scotland, and Wales and how emotion, grassroots campaigning and a surge in young voter turnout all played their part in making this an election like no other.
"We are indebted to all the contributing authors who embraced the spirit of this rapid publication to deliver a robust election analysis with real insight into what has happened in our country over the last few months."
The analysis publication follows similar books created by the team to analyse the US Election of 2016, the 2015 UK election and the EU Referendum vote.
The publication can be viewed and downloaded for free in full at: http://www.electionanalysis.uk/