Thousands of people attended free events and activities which took place during Bournemouth University's (BU's) fifth Festival of Learning.
 
Around 5,000 people enjoyed more than 140 free events which aimed to bring learning to life and share BU's research and expertise in engaging and accessible ways. 
 
Events included drop-in stalls and activities at Poole Quay, a family day at BU's Talbot Campus, and a range of professional development and learning opportunities.
 
Sports sessions, exhibitions, performances and workshops – covering everything from networking to the future of healthcare, cyber-security and the authenticity of food – were also on offer.
Festival Director Genna West said: "This year's Festival has been brilliant – we've had so many people through the doors and engage with us when we took our activities out to the public.
"We're really pleased to have so many people interested in what we do as a university and it's a great chance for our staff and students to talk to the wider community and share some of our fantastic research with people outside of the institutional walls."
The Festival of Learning ran across five days, and kicked off with a Festival for the Family at Talbot Campus.
Activities on offer ranged from animal adventures to sporting sessions and workshops exploring everything from dinosaur DNA to getting messy with research.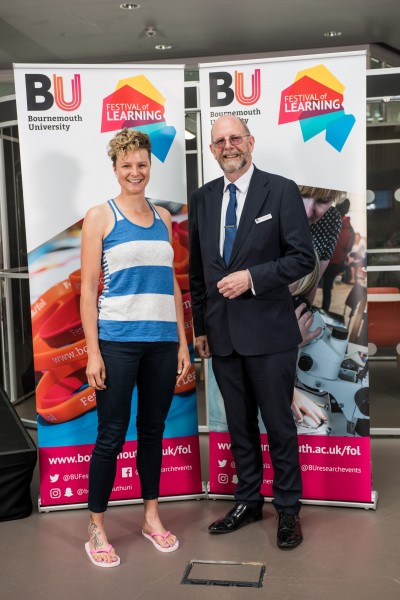 Adventurer and endurance athlete Anna McNuff was this year's Festival guest speaker and gave two talks about her travels around the world – which include cycling through every state in the USA and running across New Zealand.
She said she thought the Festival of Learning was a great opportunity for people to explore the university and the work and research taking place.
"It's really nice and it's so out of the norm from what a lot of universities do," she said.
"I think to do something for the local community like this where you're just focused on giving back and allowing them access to an amazing campus is a great thing to do."
The Festival closed with a day celebrating BU's global reach and achievements, which include Global Festival of Learning events in China, India, Malaysia and Indonesia.
 
Alongside an international food festival, exhibitions showcased the work and research undertaken by BU staff and students around the world and events explored BU's commitment to developing global talent and the region as an international business hub.
 
A closing ceremony featured international performances and a keynote speech by Phil Baty, the Editorial Director of the Times Higher Education Global Rankings.
Speaking at the event, Professor John Fletcher, BU's Pro Vice-Chancellor for Research and Innovation, said: "We've welcomed thousands of people on campus and hundreds of people out and about in Bournemouth and Poole with our off-campus activities.
"It's been brilliant to share just some of our research and learning experiences with the public, because it's part of Bournemouth University's mission and ethos to share our activities, to inspire people about learning and celebrate the joy of learning. That's exactly what the Festival of Learning is all about." 
Visit our Festival of Learning hub page to see images and videos from across the 2017 Festival.