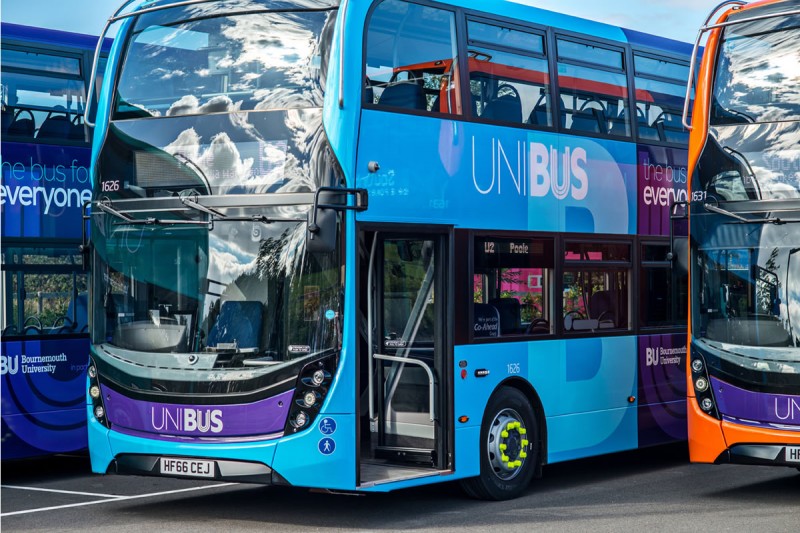 Over the past year, 1 million passengers have journeyed to and from BU on our enhanced UNIBUS service provided by morebus. This year brings a series of new enhancements to the service, including a new U5 route connecting students living in our new Halls of Residence, Home Park.  
To help both students and staff travel to our campuses and around the local area, we offer a range of UNIBUS services, which now includes the following to help make your journeys easier and more efficient:
The introduction of a new U5 route, providing a convenient service for students living in new BU accommodation at Home Park, as well as other Landsdowne-based students and staff. The service will run every 30 minutes from 8.30am to 6.05pm, from Bournemouth House on the Lansdowne Campus to the Talbot Campus via Cranborne House, with a return service operating a reverse route.   
An additional, brand new, UNIBUS - a euro 6 emissions standard vehicle, with free Wi-Fi and charging points on board.
All UNIBUS and morebus passengers will be able to pay for fares using contactless card payments to help speed up boarding and journey times.
These changes will come into effect on Monday 18 September. The UNIBUS service will continue to operate the U1, U2, U3 and U4 routes and fares will remain unchanged for 2017/18. More information is available on the UNIBUS website.
Complimentary bus travel for Lansdowne students
If you study at Lansdowne try out the free bus travel to Talbot Campus on Wednesday afternoons during term time.
Running throughout 2017/18, this is a joint initiative launched by BU and SUBU to enable Lansdowne students to get more involved in the activities happening at Talbot Campus.
From Wednesday 4 October 2017, simply show your BU student ID to the driver on any UNIBUS U5 service departing from the Christchurch Road bus stops (outside Bournemouth House or opposite Studland House), every 30 minutes, from 11:40 to 17:50. Returning U5 services can be taken from Fern Barrow bus stop, with the last service departing at 18:05. 
New bus hub
As part of our on-going campus developments, a new bus hub will be created on the Talbot Campus later this year. Due to the current construction of the bus hub, users of the Fern Barrow bus stop should be aware that the waiting area will be temporarily reduced between September and December 2017. As this area will be very busy during peak periods, please be careful and give consideration to other passengers and footpath users.
Bus incentives
You can use the 17 service with a UNIBUS key card as well as all other morebus zone A network services.
An annual pass gives you all the dedicated UNIBUS services and the entire morebus zone A network
Students can save 10% on their bus travel in morebus zones AB & ABC. The discount is available online. Use the discount code SUM85R at: morebus.thekey.co.uk/smart-card/
Child fares are available on all other morebus routes at any time by showing your student ID card to the driver. Separate fares apply on night buses.
BU students can benefit from a 10% discount on numerous Yellow Bus advanced fare adult products. A ten-trip multi ticket can be purchased from Poole House cash office. To find out more details about all of these incentives, head to the BU website.
Free Wi-Fi and USB charging points on all UNIBUS branded buses. 
Yellow Buses
Yellow Buses will be coming to BU each month during term-time this year to promote their services and exclusive BU student offers - you'll find them on campus as follows:
Talbot Campus, Poole House atrium, from 11am to 2pm on the first Tuesday of the month
Lansdowne Campus, EBC reception/café, from 11am to 2pm on the second Tuesday of the month.
If you have any questions about transport and travel to BU, please email the Travel Plan Group.