A Bournemouth University (BU) professor will undertake the first in-depth analysis of using robotic-assisted technology in hip replacements. 
The Mako robotic-arm technology will provide hip replacements to Nuffield Health Bournemouth Hospital's patients from October 2017, led by leading orthopaedic consultant Professor Robert Middleton, who is the head of the Orthopaedic Research Institute at Bournemouth University (ORI BU).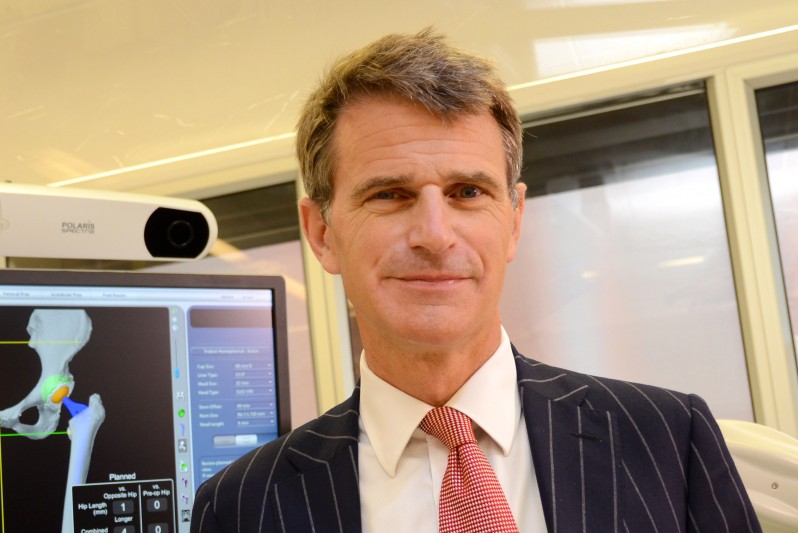 The partnership is the result of a £200,000 grant awarded to BU by the world's leading medical technology company, Stryker, and it is the first time worldwide that an in-depth analysis of the physical and economic benefits of using robotic-assisted technology in hip replacements will be undertaken. 
Professor Middleton said: "I was first trained in robotic-assisted surgery 20 years ago. The Mako technology is now at a level where patients are seeing a true benefit of receiving robotic-assisted surgery.
"As a Professor and an orthopaedic consultant, not only did I want to perform hip replacements using robotic technology to the highest standard, but I wanted to prove the benefits of using this technology over current standard practices, so all can benefit in the future"
In partnership with Nuffield Health, Professor Middleton will see patients before operating and then up to one year after at Bournemouth University's ORI BU Gait Lab. This facility has state-of-the-art equipment available including a 180-degree screen where medical professionals can take a deeper look at a patient's gait or walk, as they swerve, jump and kick animated objects that will appear on screen.
Professor Middleton added: "Patients in the UK and Bournemouth will see a multitude of benefits from receiving robotic-assisted arm surgery including a quicker, less painful recovery and a longer lasting implant. A hip replacement is the most common surgery conducted in the UK and by improving this procedure patients will have the opportunity to get back on their feet and back to work quicker, as well as competitive sport." 
John Fletcher, BU's Pro-Vice Chancellor of Research and Innovation, commented: "This partnership will bring real benefits, not just to Dorset and the UK, but globally, as we work together to drive forward innovation and improvements in medical science. This project is just one of many good examples of how we are investing in some key areas and it underlines the university's commitment to the combination of research, education and professional practice, something we call 'Fusion', and how this research can make a real difference to our lives."