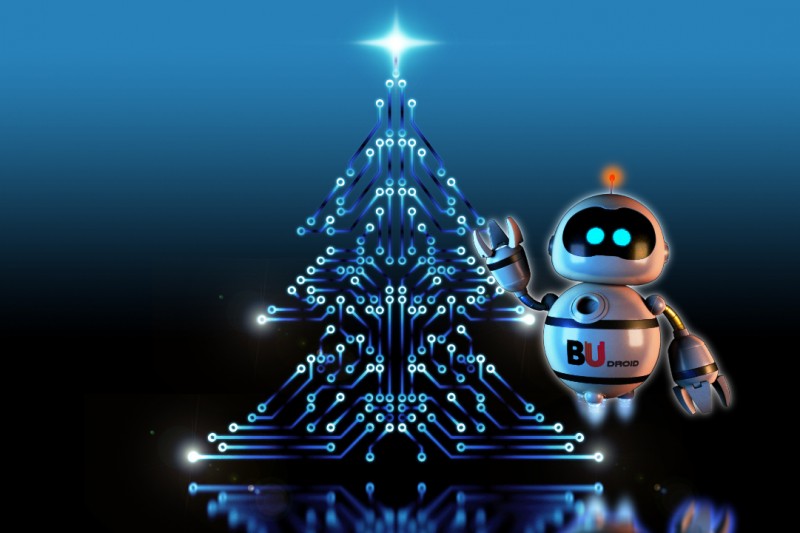 BU gets festive throughout December, and we are asking you to join in the festive fun! 
To celebrate the festive season, a number of Christmas trees have been placed around campus - and we're asking for your help to decorate them. 
To join in with the fun, and to be in with the chance of winning a festive prize, simply do the following:
Head to your nearest Christmas tree and grab a luggage tag
Answer the question 'What has made you #BUproud in 2017?'
Place your tag on the Christmas tree to fill our campuses with #BUproud messages
Whether you've achieved a good grade on your assignment, taken a trip abroad, or your sports team won the league - we want to hear your 2017 highlights! So grab a pen, and get writing your #BUproud messages! 
Leave your name and email address on the reverse side of the luggage tag and you could be in with the chance of winning a festive present. The competition will run every week day from 1 December to 15 December, with terms and conditions at www.bournemouth.ac.uk/festive-2017
Christmas trees are in the Fusion Building, the Atrium (Poole House) and the Staff Zone on Talbot Campus, and in the reception areas of Studland House, Melbury House, Bournemouth House and Royal London House on the Lansdowne Campus. 
You can also take part in the competition online, head to social media and use the tag #BUproud to tell us what has made you #BUproud this year!
Prizes include AFC Bournemouth match tickets, a meal for two at Monty's, and a trip to the ice rink in Bournemouth town centre. 
For more Festive fun, head to the festive pages of the BU website, where you can see our animation and even play a game! www.bournemouth.ac.uk/festive-2017
Season's greetings!