Experts from BU's National Centre for Computer Animation (NCCA) were able to provide a green screen experience for budding AFC Bournemouth fans attending the annual Junior Cherries Christmas Party at the Bournemouth International Centre last week.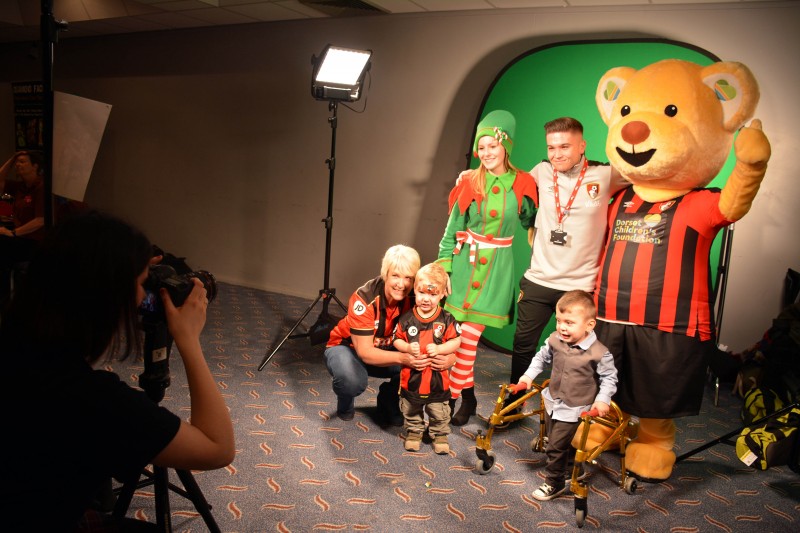 Dorset Children Foundation's Dorsey Bear was among those being photographed alongside Junior Cherries at the star-studded evening where AFC Bournemouth players like Jermain Defoe, Andrew Surman and Nathan Ake met young supporters.  
Also using the screen was BU alumni and AFC Bournemouth Equality Partnerships Executive, Ben Abberstein: "The Bournemouth University green screen was a fantastic addition to this year's Junior Cherries Christmas Party. The screen offered a fun and innovative way for our young supporters to engage with new technologies.  I'm really looking forward to seeing the final images."
AFC Bournemouth Marketing Manager, Dan Buckley added: "The green screen proved a great success and we can't wait to do it again on Sunday at the BU Big Match. We are always looking to provide new experiences for our young fans, and we are excited to see what else we can achieve through our ever-growing partnership with BU." 
BU's Head of Regional Community Partnerships, Ian Jones, who helped bring the team to the Junior Cherries said: "I really enjoyed attending the AFCB Junior Cherries Christmas party and was delighted that BU could provide the green screen experience which was enjoyed by all".
The screen, which puts Cherries fans into a superimposed match day scene, will also make an appearance at the BU Big Match, a BU-sponsored AFC Bournemouth fixture against Liverpool FC on Sunday 17 December.
To read more about the Higher Education Partnership between AFC Bournemouth and Bournemouth University, visit: www.bournemouth.ac.uk/afc-bournemouth