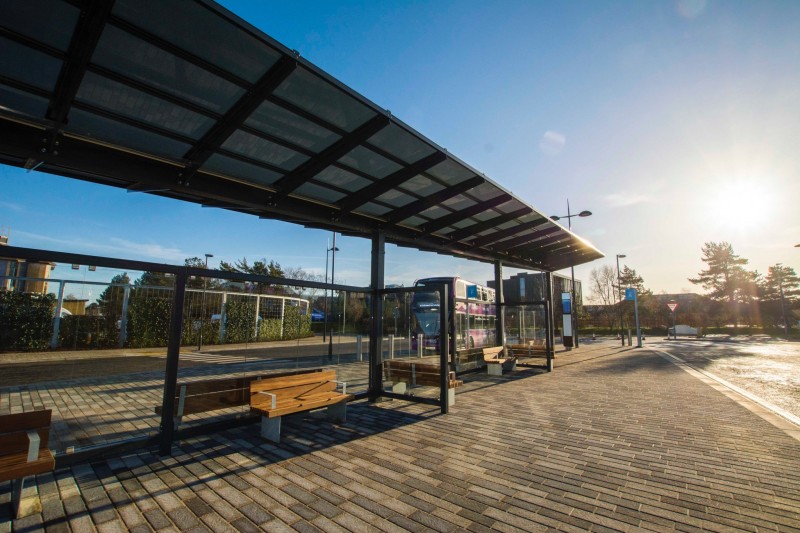 The new BU bus hub opened on Monday 18 December, four months ahead of schedule. The six bay bus facility will offer UNIBUS passengers a high-quality purpose-built facility for their journeys to and from the Talbot campus.
The bus hub also offers the following features:
Purpose-built canopy shelters, fitted with transparent solar glass panels
Real-time information displays showing the departure times for all public bus services from Talbot Campus
Safety crossings from both sides of the bus hub allowing all users to access the bus stops easily and safely
Static bus information boards and a campus map
Capacity for eight buses to enable future expansion of the UNIBUS service.
This area will create the additional benefit of helping to reduce road congestion on Fern Barrow, improving the experience for Yellow Bus and more bus passengers, who will continue to use Fern Barrow for journeys to and from Talbot Campus, and Fern Barrow road users in general.
All Talbot Campus UNIBUS services will terminate and depart from the new bus hub commencing from Monday 8 January 2018, and the U1 and U3 vacation services are already operating from the new bus hub. The following stands should be used for departures - find out where to get your bus from:
U1 – Stand A
U2 – Stand F
U3 – Stand E
U4 – Stand C
U5 – Stand B
Boundary Road link arm
A new, fourth arm from Boundary Road roundabout to Gillett Road is scheduled to be completed and open on Monday 8 January. Once in operation the new road will be used by all west-bound UNIBUS service routes to Talbot Campus.
Coming next
The Poole Gateway Building construction project will start January 2018, providing an inpsiring learning space that will create an attractive visual gateway to the campus - becoming a real landmark on the eastern edge of the Talbot Campus. One of the first activities will involve the demolision of Tolpuddle House, which is expected to happen in February 2018.