As part of the 2017 BU Big Match, female sporting scholars from a range of sports joined AFCB Chairman and BU Honorary Doctorate Jeff Mostyn and BU Vice-Chancellor John Vinney on the pitch at half-time during the game between AFC Bournemouth and Liverpool at the Vitality Stadium on 17 December 2017. UK and international students representing seven different sports – archery, badminton, basketball, football, rugby, taekwondo, and volleyball – all attended the match together to showcase how BU is encouraging future sporting talent.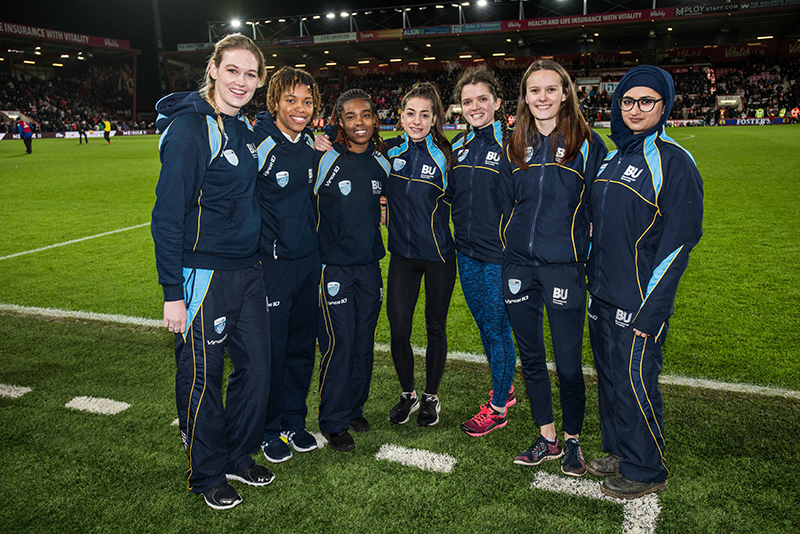 The BU Sports Scholarship programme supports regional, national and international level athletes. The aim is to allow students the opportunity to continue to develop in their sport and keep them on track with their goals, while at the same time completing their studies. This 'dual career' support is widely recognised as the industry standard and BU's team of experts supports students to combine their academic and sporting programmes by creating a personal supportive programme with all the athletes so that success can be maintained in both.
Athletes are supported via SportBU – the university's dedicated sports section – in a wide range of ways, including financial support, strength and conditioning programmes, as well as support to enter national and international competitions.
Find out more about sporting scholarship opportunities at BU
---
Athlete profiles
Archery – Sarah Shahzad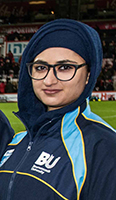 MSc (Hons) Computer Animation and Visual Effects, international masters student from Pakistan
Sarah started shooting during her bachelor degree in Dundee and has been shooting for a little over four years.
She won a silver medal in the BUCS (British Universities and Colleges Sport) barebow indoor competition in 2017 and gold in the first archery national championships in Pakistan as well. 
---
Badminton – Freya Hodgson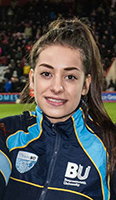 BA (Hons) Multimedia Journalism, 1st year undergraduate student from Sussex, England
Freya, from East Sussex, has played badminton since she was nine years old and represented Sussex from the under-11 age group – playing the position of the first girl for singles and doubles. Sussex currently play in the English Premiership division.
Last season saw Freya coming close to beating a top-five girl in the English National Championships and winning tournaments including the Dorset and Kent Senior Silver. Freya commented: "Scholarship funding from BU has really helped me to continue playing badminton at a higher level whilst pursuing my studies."
---
Basketball – Katherine Goldsby
MSc Sport Management, international masters student from Alabama, USA
Sports scholar Katherine is currently focussing on BU's attempt to win the Basketball League Cup and the team are having a great season; their current record is seven wins and one loss, with a 100 per cent home record.
Before coming to study at BU Katherine studied Kinesiology at the University of Montevallo in her home state of Alabama, USA and was the captain of the women's basketball team from 2014–2016.
---
Football – Maddie Hayes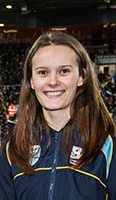 BSc (Hons) Clinical Exercise Science, 3rd year undergraduate student from Torquay, Devon
Maddie is Vice-Captain of the Women's Varsity team and first started playing football in her primary school boys' football team because they didn't have a girls' team. She then took it into her own hands to build a girls' football team in year six when she wasn't able to play in the boys' team anymore. 
Maddie has benefited from the partnership with AFC Bournemouth, which includes professional coaches from the club working with both the women's and men's student teams throughout the season. Last year Maddie had the opportunity to watch the AFCB first team train and also to play on the AFC Bournemouth pitch.
---
Rugby – Kiera Paul-Jones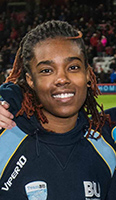 BSc (Hons) Sports Development and Coaching Sciences, 4th year undergraduate student from London
Kiera is from East London and spent most of her childhood on an athletic track – including doing the 100 metres in just over 12.5 seconds – but after trying rugby for the first time at university has spent the last three years making a name for herself, both as a player and a coach.
On coming to university Kiera took the opportunity to take up a new sport and became obsessed with rugby. All students at BU have an opportunity to do a placement year as part of their course and Kiera took advantage of this to undertake her placement in London with the governing body of the sport the RFU (Rugby Football Union) and London Irish, a famous name in the sport.
With the support of the university she volunteered in a secondary school as an assistant coach. Kiera commented: "This not only benefited the girls I was coaching but also broadened my knowledge as a coach and a player. This led onto me becoming a qualified RFU coach and referee. I now go around Dorset getting girls in schools involved in rugby, helping the RFU set up girls' tournaments." 
Five months ago Kiera was asked to join the university's coaching team and become an assistant coach for BU Men's Rugby Team.
Kiera is a great example of how new sporting opportunities are available in higher education – since first picking up a ball at university Kiera has represented her university, County, Richmond Ladies and England Students.
---
Taekwondo – Immi Hand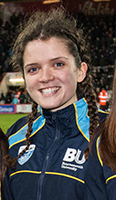 BSc (Hons) Psychology, 2nd year undergraduate student from Birmingham, England
Immi grew up in Birmingham and sport was an integral part of her life from a young age. Throughout her childhood she enjoyed participating in a variety of sports such as swimming, dancing, ice skating and climbing. Aged 14, she started ITF taekwondo and enjoyed this greatly, completing her grades to black tag, as well as regularly competing and training with GTUK England Squad. As a student at BU Immi has developed in her sport, to include another style of taekwondo called WT, and trains regularly with the Dorset Taekwondo Association.
Immi commented: "BU are fantastic with facilities, supporting both practically and in ethos a good environment for disciplined study and practice of sport. Sport helps me to grow in confidence and ability. It challenges my mind with long term theory and knowledge, working alongside an ability to make snap decisions and react quickly on my feet. I have competed in numerous international championships, succeeding to become ITF World Champion. Looking ahead, I intend, with the university's support, to continue progressing through the grading systems and to continue to compete on a world platform."
---
Volleyball – Brenna Wagner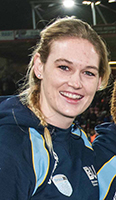 MSc Foundations of Clinical Psychology, international masters student from Utah, USA
Brenna is from Utah where she studied Psychology and child development at the University of Utah and played 4 years of US Division 1 Volleyball. She is an important member of the BU team that is currently in 3rd place in BCUS (British Universities and Colleges Sport). Brenna has also taken the opportunity while studying at BU to take up Beach Volleyball for the first time.
Following her studies Brenna intends to return to the US to work as a behaviour therapist for children with developmental disorders. She also plans to coach volleyball.