Ellie Van Leeuwen was inspired to tackle the issue of dehydration after her Gran spent time in hospital following a hip operation. Ellie explains: "By the time she was discharged she was disorientated and confused. When she returned home she suffered a bad fall and was diagnosed with severe dehydration."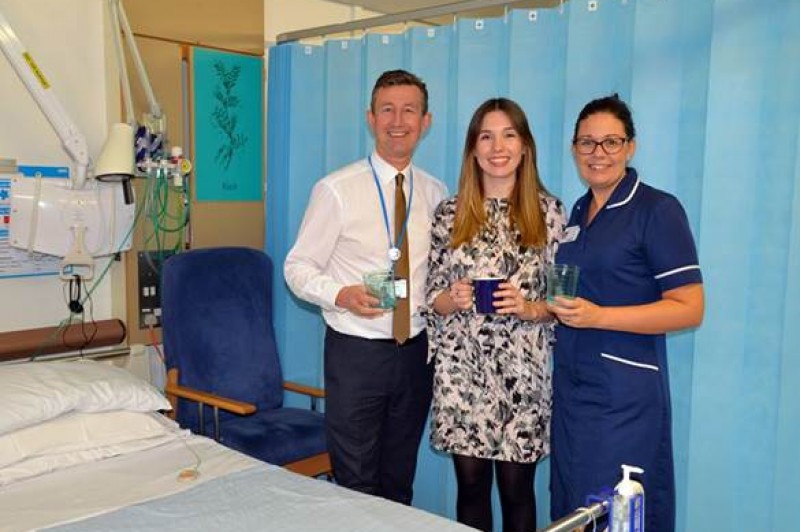 Ellie had noticed how difficult it was for her Gran to keep herself hydrated while in hospital; having to rely on a heavy metal jug which she was unable to pick up by herself. This sequence of events coincided with Ellie's final year as a Product Design student at BU, and the start of her final major project.
She said: "I decided to focus on finding a solution to the issue my Gran had faced. My aim was to develop something that made it easier for patients to self-hydrate and easier for the busy healthcare professionals to detect if someone isn't drinking regularly."
Ellie developed Droplet, which combines a mug or drinking tumbler with an electronic base providing flashing light and sound reminders to remind the user to take regular drinks. The sound feature can be used to incorporate personalised messages, enabling family members to get involved in their loved one's recovery.
Ellie said: "The goal is to offer a product which respects the dignity of the user, whilst giving them the support they need to maintain a healthy hydration level."
Having been chosen by her university lecturers to exhibit the product at the New Designers Show in London in 2015, Ellie met the team at Spearmark International Ltd and has since joined the company to develop the product further.
After working on product development with the input of around 100 healthcare professionals, Ellie and the team carried out a trial on the wards at Musgrove Park Hospital in Taunton. This showed that patients drank 40% more when using Droplet and feedback from patients and staff has been extremely positive. The product will now launch fully in April 2018, targeted at NHS hospital trusts, care and nursing home providers. It will also be available to buy for home use via Amazon.
Ellie said: "This has always been more than just a university project for me, but to get to the point of taking the product to market and seeing the impact it can have on patients is extremely rewarding. I am so grateful for the opportunities which BU has given me. The Product Design course is very practically focused and I find myself using the knowledge I gained on the course almost every day. It's also great to keep up with what other alumni from the course are doing and to hear how they are developing projects which they also began at BU."