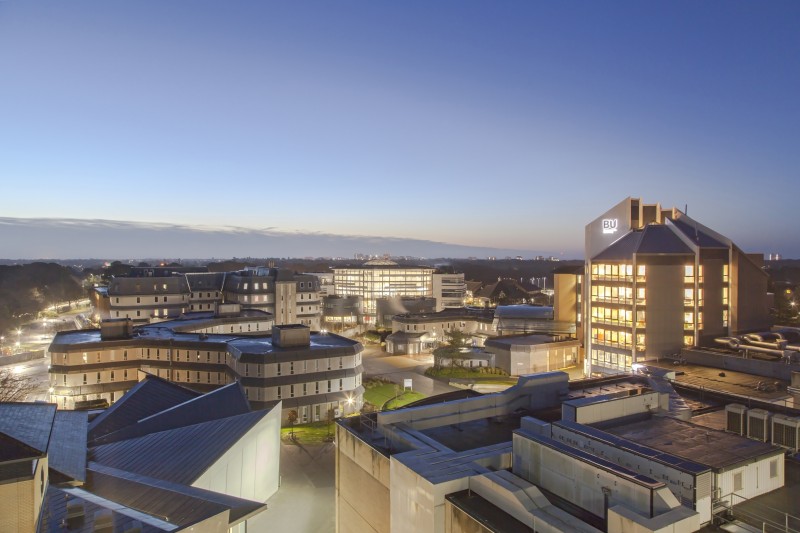 BU's campus has undergone various improvements in the last few years, from the Student Centre and the Fusion Building, to the new bus hub at Talbot, which officially opened in December.
Work will continue across both the Talbot and Lansdowne sites in 2018, so here is a rundown of six ways BU's campus will look different in the coming year:
Poole Gateway Building – work is due to commence on the Poole Gateway Building this year, with the area already marked out at the Western end of the Talbot site, next to the new link road. The Poole Gateway Building will house facilities predominantly for the Faculty of Media and Communication, and the Faculty of Science and Technology, with more information available on the BU website.
Bournemouth Gateway Building – work is already underway at the site of the new Bournemouth Gateway Building, on the gateway to Bournemouth town centre at St Paul's roundabout. This flagship building will become the new home of the Faculty of Health and Social Sciences, with more information on the BU website.
Link Road – The link road, providing an additional access route to BU car parks at Talbot, is due to open later in January. BU bus services operating between Talbot and Lansdowne will access the new bus hub via the link road and return via Wallisdown Road. It is hoped that the road will alleviate traffic congestion on Fern Barrow and Wallisdown Road.
Signage refresh – A new project will begin this summer to review external wayfinding signage at BU. Beginning at Talbot, the project will look at how people navigate around our campuses and what signage is required to help them do this. It will also look to create different types of signage that reflect the BU brand but help people to easily complete journeys around campus. 
Investment in academic space – as well as the new academic space in the two Gateway Building's, BU's Estate will also continue to offer the best in academic facilities. One such project will involve the creation of an 'advanced materials lab' in Poole House to allow for research into material science, such as the development of battery technology.
Former 21 Lansdowne Road site – The 21 Lansdowne Road building, next to Cranbourne House, has now been demolished, with a student accommodation block being built in its place. This project will develop quickly over 2018, with the building set for completion ready for students joining us in 2019.
For more information about the Estates Development Framework, visit: www.bournemouth.ac.uk/about/professional-services/estates/developing-our-campuses