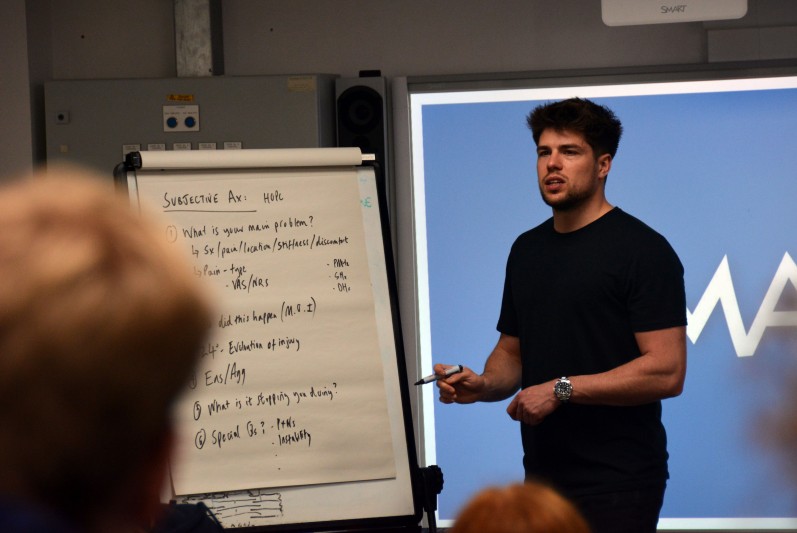 AFC Bournemouth's  first team Physiotherapist, Jonny King, visited Bournemouth University's Lansdowne campus to teach first year BSc (Hons) Physiotherapy students about foot and ankle injuries with a day of intensive seminar and exercise sessions which saw students assessing and analysing a range of scenarios. 
Led by BU lecturer Dr Osman Ahmed, Physiotherapist for the Paralympic Cerebral Palsy England squad, the first year unit 'Exercise, Movement and Rehabilitation' looks at developing knowledge of normal human movement, biomechanics and movement analysis.
Dr Ahmed, who leads the unit, said: "We're really lucky to have Jonny King from AFC Bournemouth with us today. He's teaching about the foot and ankle as part of our first year unit, called Exercise, Movement and Rehabilitation. The nice thing about today's lecture with Jonny is that he's made a lot of references back to his clinical work as well so that his students can see some real-life examples with real-life football players that they may well already know of, so it's been a really good session."
Jonny, who first began at AFC Bournemouth in 2012 after previously working as an Academy Physiotherapist at Norwich City Football Club, began his career at Norfolk and Norwich University NHS Trust as a Junior Physiotherapist, where he worked across departments including respiratory care, neurology, intensive care, and the spinal unit.
In teaching the students, Jonny said: "In the sports field, you won't just see sports injuries; you'll see all sorts of weird and wonderful conditions – if you've got a good foundation of knowledge in all areas of physio, it's really important.
"One thing we touched on in the morning with students was the importance of technology and how it helps us as clinicians to make important decisions, an example being video replays, which are useful to sports physios in helping diagnose injuries.
He added: "I always say to students that are graduating from the physio course to build a good foundation of knowledge in all different fields of physiotherapy. It was something that was really important for me. The students have been really interactive and are all good at sharing ideas, which we encourage to be really transparent. At this stage of their careers and in progressing as a physio, it's just about asking questions, however silly they may be."
As Higher Education Partner to AFC Bournemouth, Bournemouth University has hosted player events including an evening with striker Jermain Defoe, as well as a Q&A session with AFCB Manager Eddie Howe, and annually hosts its BU Big Match event at a dedicated Premier League match over the course of the football season.
Read more about BSc (Hons) Physiotherapy.