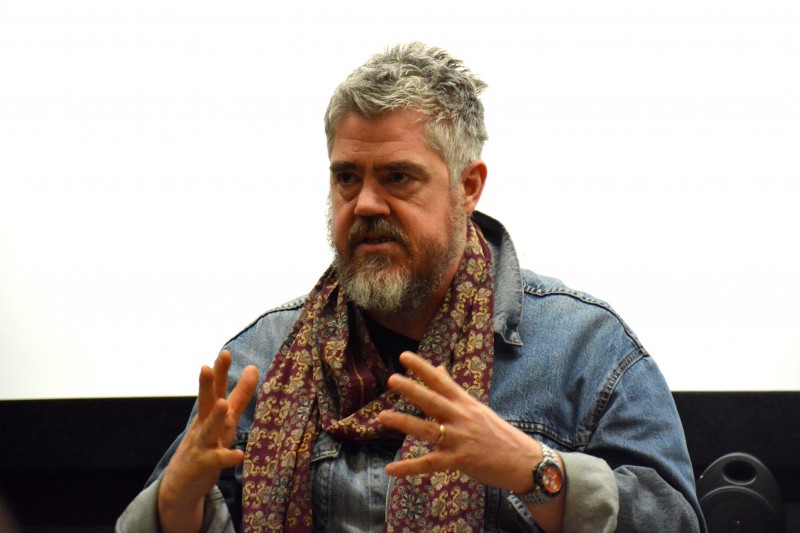 Visiting Talbot Campus to talk to staff and students from both BA (Hons) and MA Radio Production programmes, Phill was met by a packed-out screening room of fans hoping to hear about his work in radio and as a stand-up comedian.
Phill has been visiting BU since 2010 as a guest speaker and previously co-presented a show with student radio stations Nerve and BIRSt that was part of the research for his book 'Good Morning Nantwich'. Phill was invited by former producer and colleague, Jo Tyler, who he worked with on the BBC Radio 6 Breakfast Show.
Jo, now a lecturer in Radio Production at BU, said: "It was, as ever, great to have Phill with us at BU this semester. We specifically asked Phill to focus on his interests in writing – from comedy to poetry, and how his work in this area informs his work as a stand-up too."
The 'Never Mind The Buzzcocks' stalwart spoke to students about some of the differences between student radio and professional radio: "The passion of people doing both is the same - the equipment the students use is generally cheaper, but not here [at BU] - the desks here are as good, if not better than the desks I had at the BBC.
"I find that student radio is of such a high quality now; I think it's insanely good. Its people learning how to do the job which I think is exciting. Most student radio stations I've been to are run by really passionate teams of people – it's young people that really want to do it. I love young and enthusiastic… I love the new."
Offering his advice to prospective writers, Phill said: "I think that writing in the morning - first thing – is good. Avoid gadgets. Write in isolation. Wake up and don't even interact with anybody. I think there's some really good, pure, clear headspace in the morning before the world has started going this happened, that happened…"
Phill's one-man show, Juplicity, returns to Dorset for its final night in June at the Tivoli Theatre in Wimborne on Friday 8 June.