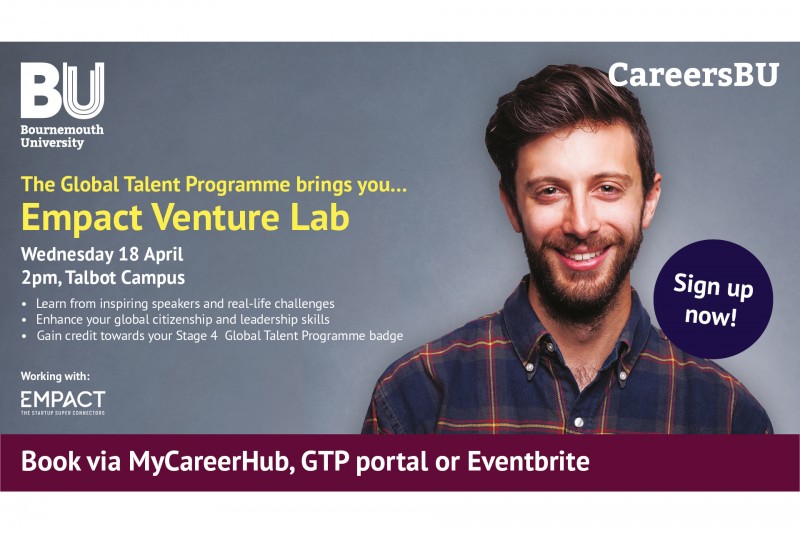 As part of our Global Talent Programme (GTP) our careers team has joined forces with start-up super connectors, Empact to bring their Venture Lab to BU.
At this session, you - our aspiring leaders, researchers and entrepreneurs - will have the opportunity to hear from inspiring leaders and share their real-life business challenges.
The Venture Lab is open to all BU students. For GTP postgraduate students this counts towards one core activity from the disciplined researcher badge.
Kosta - the man behind Empact, and former campaigns manager for StartUp Britain – shared his belief that: "Bournemouth is quickly emerging as a valuable part of the UK's start-up ecosystem thanks to both recent and established initiatives available to companies of all sizes, such as Meetdraw, Silicon Beach, the Venus Awards, THIS Workspace and more".
He continued: "We're delighted to offer our Venture Labs to aspiring student leaders, entrepreneurs and growing start-ups at Bournemouth University, where we aim to inspire and educate students about the journeys of experienced company founders, as well as connect and support them first-hand to showcase their talent".   
Get involved
Open to all BU students - book your place now via Eventbrite: 18 April, Marconi lecture theatre, 2-4pm
Company profile
Empact Ventures 
The start-up super connectors that design and deliver local to international start-up initiatives, and support the development, growth and sustainability of high-growth start-ups and SMEs. Empact Ventures CEO, Kosta Mavroulakis, has spent the past decade delivering start-up initiatives at a local to international level, supporting young entrepreneurs and start-ups at all stages of their journeys in the process. This includes, working locally and regionally to help establish over 100 student-led enterprise societies in UK universities and further education colleges as one of the founding team of the National Association of College and University Entrepreneurs (NACUE), as well as leading the UK's largest campaign for small businesses, StartUp Britain, for over two years and its nationwide bus tour (which dropped into Bournemouth on two occasions), and co-organising the India Tech Summit at the Houses of Parliament in November 2017.