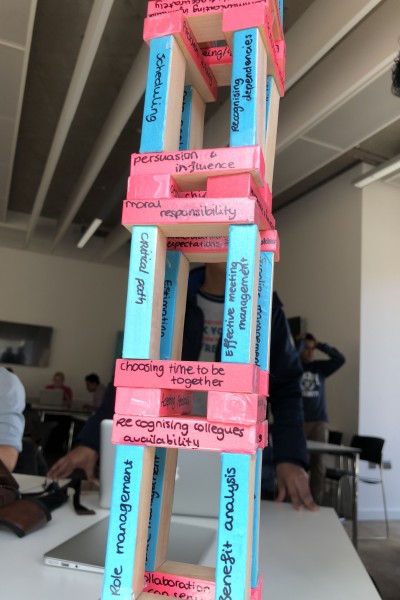 Representatives from The Southern Sustainability Partnership, Borough of Poole Council, The Starfish Project, Poole Tidal Energy Partnership, Desk Coach and Horserenity worked with teams to complete six projects on the day.
One team developed a game, using a 'reverse-Jenga' idea, for developing awareness of the hard and soft skills needed by project managers.  Project managers came along on the day to test the game by playing it. 
Observing use of the game by different teams and individuals showed the flexibility and depth of required reflection and the different ways that the game can be presented. Wendy Drake, one of the professional project managers taking part, said: "The game was really enjoyable, and the team had some great insights through the questions they asked."
At the end of the day, Shirley Thompson, Desk Coach along with her colleague Mike Tanner of MTA Associates, both took delivery of the game and will be using it for their collaboration skills workshops. 
Shirley said: "We appreciate the students' efforts and are delighted with their creativity.  We now have a fun and meaningful exercise for project teams of varying experience." 
The game will be available to any project team in Bournemouth to explore their views of hard and soft skills within a project, or to any team who would benefit from looking at their own collaborative skills.
To find out more and to use the game, contact Shirley Thompson at [email protected]