Brian Heppenstall, Senior Ranger at Hengistbury Head Nature Reserve, has won the very first BU Alumni of the Year Award, with three further graduates winning Outstanding Achievement Awards.
The awards celebrate the diverse achievements of BU's graduates and recognise those who have used their experiences to support and develop others.
Brian – who graduated BU in 2003 with a degree in Environmental Protection – today works as a Senior Ranger at Hengistbury Head. He received four separate nominations and each one highlighted his enthusiasm and passion for working with current BU students, with nominees expressing that "he is all about the student experience" and "goes the extra mile to support and encourage placement students and aspiring young people."
On hearing the news, Brian said; "It's a great honour to win the first BU Alumni of the Year Award. I regularly hear what a big impact other BU alumni are having across a wide variety of sectors and this includes my own group of friends from my time on campus.
"So to even be considered for this award – let alone win it – is an incredible milestone in my career and very humbling. I was already proud to be a BU alumni and I'm very grateful to those who nominated me, and to the judges who felt I deserved to win the award."
Addressing his work with BU students, Brian commented; "I find their approach to work, their enthusiasm and energy a really positive thing to be a part of. I'm hugely proud of each placement student we have, and hearing that they've gained employment – and knowing we're even a little bit responsible for that – is a great feeling."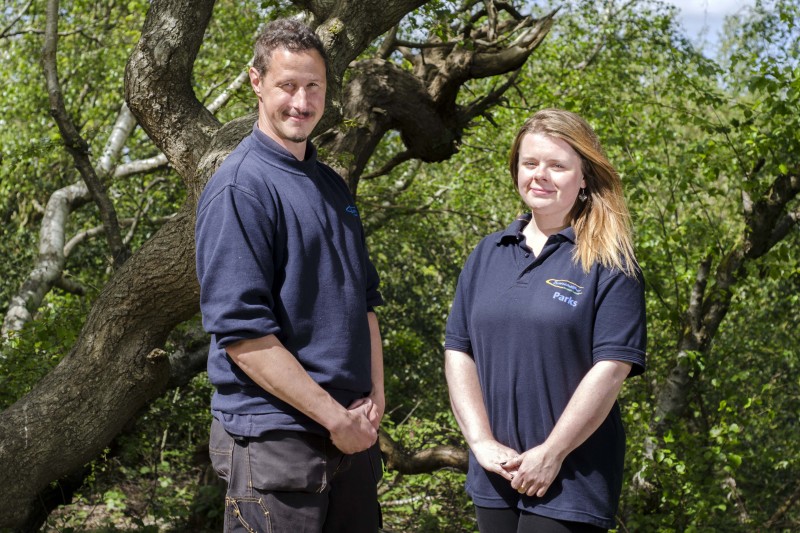 Rachel Richards, a BU student studying BSc (Hons) in Ecology and Wildlife Conservation, currently works with Brian and was delighted to hear about his win. "Brian's helped me to become more independent and confident in the workplace, while supporting me and making sure I'm getting the practical experience I need to build a career after university.
"He's so deserving of this award – he's genuinely interested in helping to develop his placement students and is always willing to go the extra mile. His work at Hengistbury Head, within his own community and with students – who will become the future of conservation work – speaks for itself."  
In addition to the Alumni of the Year Award, three other BU graduates were presented with Outstanding Achievement Awards.
Eleanor McDowall graduated with a Master's in Radio Production in 2008. Now a Director at Falling Tree Productions – one of the world's leading radio production companies crafting award winning radio features, documentaries, audio tours and podcasts – she continues to return to BU to mentor students through their work on production and in industry.
On receiving her award, Eleanor said she felt "surprised, delighted and incredibly grateful for the nomination.
"It's a real privilege to come back to the university to talk with new students," she added. "It's always a pure pleasure to listen to their work and the inventive, playful ways they're telling stories."
Richard Fogg graduated in 2001 with a BA (Hons) Public Relations degree and has gone on to become the Chief Executive Officer of the company he completed his placement at, CCgroup – a B2B technology PR and marketing agency.
Richard, who maintains his strong links with BU by contributing to guest lectures, workshops and student recruitment fairs says; "I've always said that my time at BU gave me an 'unfair advantage' in my career. I got so much out of my degree and from staying in touch with my school and my lecturers, but to receive an Outstanding Achievement Award in the first BU Alumni of the Year Awards is something else. I'm simultaneously astounded and honoured."
Tony Lorman studied food production, development and retailing at BU and graduated in 2002. He now works as the UK Commercial Director for Danone, where he is responsible for leading a business worth over £500m.
Tony continues to support BU and uses his own experience to enhance the development of future graduates in numerous ways, from offering placement opportunities to personally mentoring graduates and returning to give guest lectures. Tony commented:  "BU was the first chapter in building a career that I thoroughly enjoy and using my experience to help benefit others gives me great energy, so I am delighted to be recognised for my achievements." 
The standard has been set incredibly high for the first ever BU Alumni of the Year Awards. Head of Alumni Relations at BU, Jonathan Goode, was incredibly impressed with the calibre of nominations. "We launched the Alumni of the Year Awards to discover and celebrate BU alumni, who are making a significant impact through their careers. The strength and diversity of the entries is testament to the quality of graduates which BU produces. The awards also sought to recognise alumni who are using their success to develop the careers of others.
"It was heartening to hear how many alumni are giving back by sharing their experiences and expertise with those at the start of their careers."
Judges also made a special, posthumous award to Alan Brown. Alan graduated with an MA in Radio Production in 2008 and went on to become a valued member of BU staff as a demonstrator within the Faculty of Media & Communication. Alan, who died in 2017, was recognised for his commitment to helping other BU students to succeed in their studies.
The BU Alumni Association offers a range of services to its 50,000 members – if you're about to graduate and would like to remain part of the BU community, please head to the website to find out more.