As part of a British Psychological Society funded project, BU Psychology Academics Dr Ben Hicks and Dr Shanti Shanker have been working with Angela El-Zeind, a graffiti artist and James Skinner, a documentary film maker to deliver a series of graffiti workshops to people living with dementia.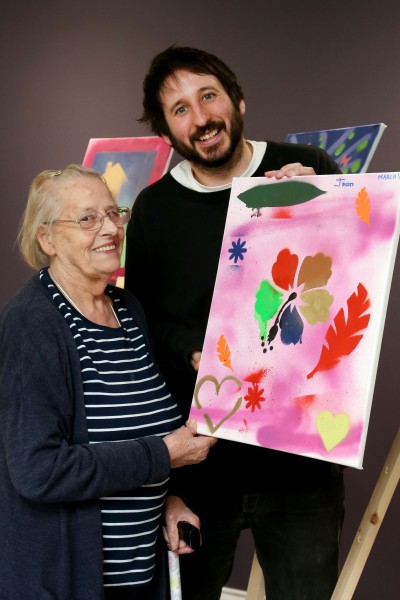 Ben presented the work at the opening event of Brooke Mead, an assisted living facility in Brighton. Brooke Mead comprised 45 self-contained flats for people with dementia and their care partners.
The workshops delivered by the team focused on exploring participants' sense of 'self' and identity since the on-set of dementia and their transition into a new environment.
Those with dementia were encouraged to get creative by crafting their own stencils, developing their own 'tag' (a symbol that is personal to them) and expressing their message on a canvass board using spray cans. A short film documenting the workshops was created as part of the project and was premiered at the opening of Brooke Mead alongside the residents' art work.
The artwork was warmly received by those attending the event and informal discussions highlighted the potential that graffiti has for providing a creative platform where people with dementia can challenge negative public perceptions of their capabilities.
As Brooke Mead continues to fill its rooms with local Brighton residents, it is keen for further graffiti workshops to take place. Boosted by these positive findings, the researchers will use this preliminary data alongside the short film to seek funding for a more substantial project that will examine how graffiti arts can be used as a medium to support identity and social inclusion in people with dementia.
Find more details about Brooke Mead and the graffiti workshops here.