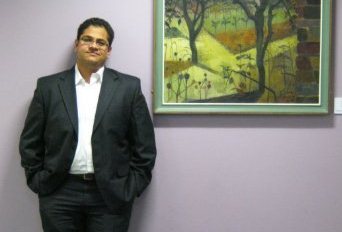 The winner of this year's BU Connect India award visited campus this week to help strengthen links between the university and its Indian alumni.
Achyut Punnekat graduated with an MBA in 2011 and is now Deputy Editor (Operations) for Network 18 Media and Investments Ltd. Earlier this year, he was named the winner of the Connect India award during BU's Global Festival of Learning in India. The award recognised Achyut's proposal to develop the existing BU Indians alumni network, for the benefit of graduates, students and applicants. During his visit to Bournemouth, Achyut met with BU's alumni relations team to explore how the university could support Indian alumni at the start of their careers, as well as connect alumni with BU applicants.
Achyut also delivered a guest lecture on The Business of News in India, which formed part of an 'Inside India' series.
Achyut said: "There are real opportunities in bringing together BU alumni now living in India. The employment market can be incredibly tough in India, and graduates returning home can become disillusioned. Drawing on the experiences of alumni can help recent graduates to make the reintegration more successfully and we can also use the network to provide internship and placement opportunities. This can be a vital first step into a career. I appreciate so much of what I learned and gained at BU and I am pleased to stay connected with academics and with fellow alumni."
Following Achyut's visit, BU is exploring ways of supporting a BU Indian alumni network – with a particular focus on the major centres of Bombay, Delhi and Chennai. To find out more and to receive news about the network, please email [email protected]