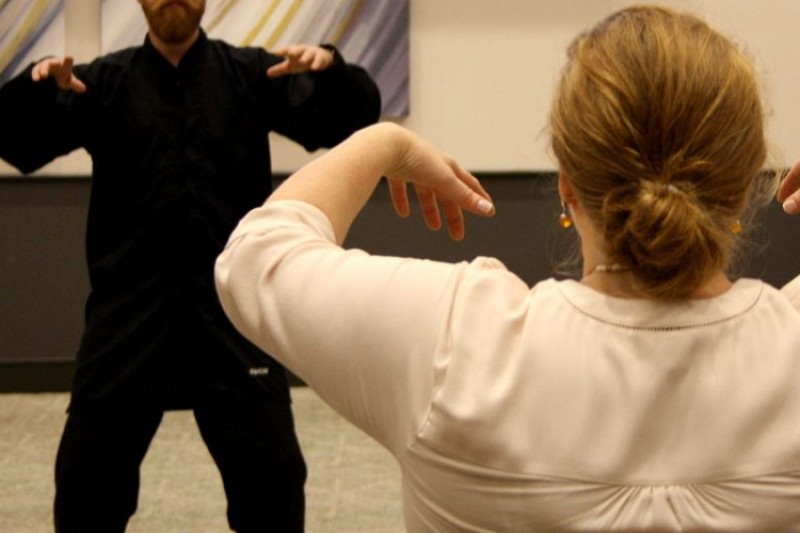 A Tai Chi class in action by Dr Samuel Nyman
The TACIT Trial: TAi ChI for people with demenTia
This week's photo of the week is Dr Samuel Nyman's entry of a Tai Chi class in action. This weekly series features photo entries from our annual Research Photography Competition taken by BU academics, students and professional staff, which gives a glimpse into some of the fantastic research undertaken across the BU community.
The TACIT Trial is all about people. The study is undertaken by a team of researchers led by Dr Samuel Nyman at BU who are looking into the benefits of Tai Chi for people with dementia.  Qualified Tai Chi instructors, such as senior instructor Robert Joyce from Elemental Tai Chi (photographed), lead the classes.  The classes are attended by people with dementia and their informal carers.  The classes involve slow, gentle, fluid body movements and slow breathing that leave you feeling relaxed and yet you have exercised your core muscles.  In this randomised controlled trial, we are following up for six months people who have taken part in the classes and practiced at home and are comparing them to others who have not done Tai Chi.  This will provide initial evidence for the first time in the UK as to the benefits of Tai Chi for the health and well-being of people with dementia and their informal carers.  This photo is taken from a workshop for Solent NHS led the the chief investigator Dr Samuel Nyman and Robert Joyce.
You can find out more about the TACIT Trial here:
Dr Samuel Nyman discusses the need for volunteers for the trial
Webpage: www.bournemouth.ac.uk/tai-chi/
Facebook: www.facebook.com/TheTACITTrial/
—
Dr Samuel Nyman is a Principal Academic at Bournemouth University. For more information about this research, please contact Samuel here.