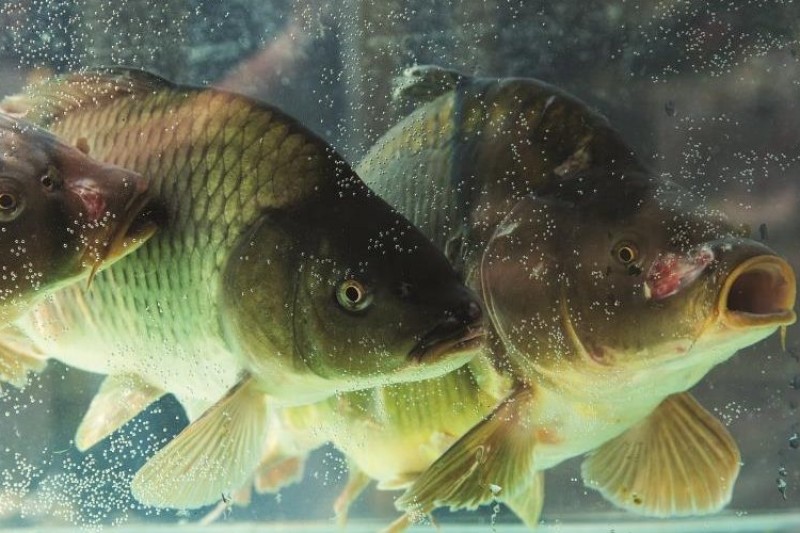 Protecting native fish species
Since its establishment in 2007, the Centre for Ecology, Environment and Sustainability has undertaken research in areas such as biodiversity and environmental change, with the aim of supporting both policy development and conservation practice. One particular strand of work has concentrated on the effect of invasive species on ecosystems, native species and economies in the UK and beyond.
Professor Robert Britton, a fish ecologist, and Adrian Pinder, Associate Director of BU's Global Environmental Solutions (BUG), first worked together on the issue of invasive species while investigating the effects of Topmouth Gudgeon on UK waterways. Topmouth Gudgeon are native to Asia and were introduced to the UK in the mid-1980s. By the early 2000s, populations were emerging in several locations across the country.
"I was working for the Environment Agency at the time and had been tasked with developing a better understanding of the ecology of Topmouth Gudgeon and how their populations could be managed," says Professor Britton, "Populations were being reported in a number of fishing ponds in the UK, so we knew it was reasonably likely that they were being accidentally moved to new locations through fish stocking. Topmouth Gudgeon are quite small, so spotting them in amongst other fish isn't always easy."
"I contacted Adrian, who was working at the Centre for Hydrology and Ecology, who had recently published a number of papers highlighting the invasive potential and ecological threats posed by Topmouth Gudgeon and other emerging non-native fishes such as Sunbleak. By studying the fish in captivity, we were able to learn a lot about their behaviour, ecology and interactions with native species. This led to using a citizen science approach to generate an accurate picture of the distribution of Topmouth Gudgeon populations across the UK."
"We worked with the angling press to educate anglers about the threats these fish posed and how to identify them," explains Adrian, "The feedback we received helped us to map the location of 25 populations distributed between Hampshire and Cumbria, which allowed us to consider various control strategies. Since our research began, around 20 of the known populations have been eradicated by the Environment Agency, vastly reducing the risk that they posed to native fish species."
The model of research they developed while working on Topmouth Gudgeon – identifying a problem, researching to better understand the issue and working with members of the public, as well as industry bodies – is one which they've continued to use and refine through their research careers.
"It's really important for us to work with people on the ground," says Professor Britton, "It's by doing this that you can identify gaps in knowledge, which we can then help to fill. Just doing the research isn't enough; to make a real difference, you need to combine it with education and knowledge exchange with the public and the sector you're working with."
"It's also essential to work with researchers in other areas, because it'll give you access to knowledge you might not have. We're really lucky to have a huge amount of expertise in the Centre for Ecology, Environment and Sustainability. No matter how successful you are in your area; there's always going to be something you don't know. The key to that is collaboration and working with the wider scientific community to accelerate knowledge gain."
The model of research they developed through working together on Topmouth Gudgeon is one which the team have successfully refined and then used with other species and in other parts of the world. As part of a current research project, they are working on the conservation of threatened Mahseer fishes in India.
"In response to declining numbers of Mahseer in India's rivers, various conservation initiatives began raising Mahseer in hatcheries" explains Adrian, "Unfortunately, at the time, knowledge of the taxonomy of Mahseer fish wasn't far enough advanced for them to know that they were stocking the wrong species of Mahseer into the wrong rivers. Essentially this meant that an invasive species was being introduced, at the expense of native fish."
Professor Britton and Adrian recently published a paper in Endangered Species Research that demonstrates the stocking of hatchery reared 'Bluefin' Mahseer into South India's River Cauvery has driven the endemic hump-backed Mahseer to the edge of extinction.
"The importance of the Humpback Mahseer to the local economy can't be understated," continues Adrian, "These iconic fish can grow up to 50kg in size, which used to attract anglers from all across the world to visit the region. This then pumped money into very poor rural economies which assisted conservation as locals realised the renewable value of each individual live fish which could be caught and released by multiple anglers. This meant that locals protected the fish from poachers and the population thrived."
"Since the collapse of the humpbacked population, the recreational fisheries have closed and locals have resorted to killing the remaining Mahseer using non-sustainable fishing methods and using them as food sources or to sell at market, thus exacerbating the extinction threat of the remaining hump-backs."
Professor Britton and Adrian are currently working with UK charity, the Mahseer Trust and a major industrial partner in India to develop a robust conservation strategy for the hump-backed Mahseer. This involves extensive field exploration, stakeholder engagement and an outreach programme to raise awareness across schools.
"We are also working with the International Union for Conservation of Nature and Natural Resources (IUCN) to resolve the taxonomic confusion surrounding the 17 species of Mahseer which are distributed throughout the Himalayan drainage and Southeast Asia," explains Adrian, "This also involves assessing the extinction threat each species, which feeds into updating the IUCN Red List of threatened species. This should afford these iconic fish better protection in the future."
This article featured in the 2018 Bournemouth Research Chronicle which can be found in full here.  Individual articles can be read here.