AFCB Chairman Jeff Mostyn was among those speaking to 59 Chinese football coaches currently taking part in a three-month training programme at BU. The talk formed part of the BU Global Football Forum, with former AFCB and Wales international footballer Brian Stock also speaking.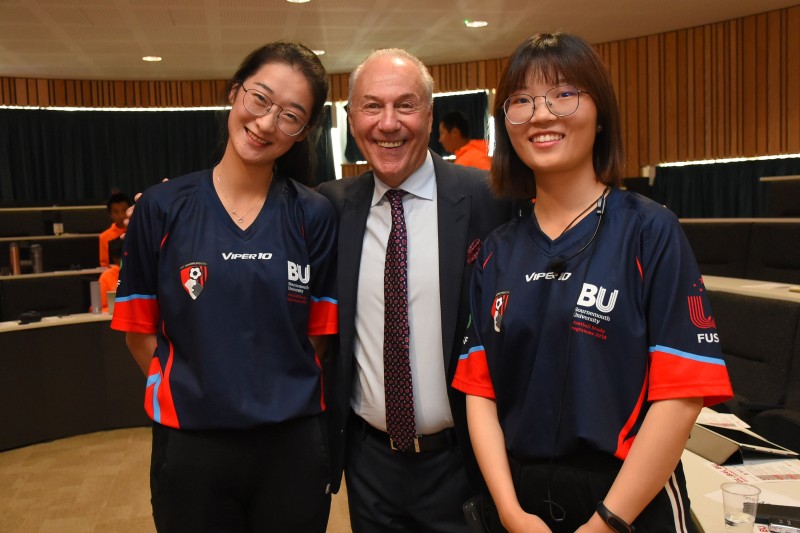 Jeff, who received his honorary doctorate from BU in 2017, outlined to coaches the importance of working as a team, AFCB's Community Sports Trust, and the links formed between AFCB and international audiences, before taking on a Q&A session where he was asked about the cherries' rise to the Premier League and the financial woes that had blighted the club in 1997.
Also speaking at the event was Wales-capped midfielder Brian Stock, who began his professional career at Bournemouth, making his league debut on 22 January 2000, playing 145 league games and scoring 16 goals for Bournemouth.
In 2008, Stock was called up for the Wales team for the friendly match against Luxembourg and also appeared in a World Cup Qualifying match at home to Russia. In 2012 Stock joined Burnley joining up with current AFCB Manager Eddie Howe.
Brian said goodbye to the top flight and goodbye to a six-figure salary in 2014 to join Havant & Waterlooville. Since then he has made the transition into the coaching realm and now runs a football academy whilst still playing and coaching for AFC Bournemouth Academy.
Brian said: "I'm very grateful to BU for having me speak at the Global Football Forum, and I'm very proud to share my journey from becoming a professional football player to life as a coach, and the many challenges I've faced along the way. It's great to see a UK university developing international talent and actively collaborating with their local football club to offer such a unique experience."
After the talks, coaches took part in a number of exercises and activities provided by both Dorset FA and AFCB's Community Sports Trust. As Higher Education partner to AFCB, BU has held training for Chinese football coaches for three years for the British Council China-UK Football Study Programme, as part of China's ambition to train 50,000 full-time and part-time coaches by 2020 and to win a football World Cup before 2050.
AFC Bournemouth chairman, Jeff Mostyn, said: "AFC Bournemouth has been involved in this coaching programme from its inception in 2016 and value the relationship we have with the university. As a club we devote hundreds of hours a week to coaching at every level; from Premier League to development squad, and academy to our tireless work within the local community."
SportBU Business and Partnerships Manager, Barry Squires, said: "We're so proud to be hosting the Chinese coaches for a third year, being the only UK University to do so, and it's been a pleasure to welcome both Jeff Mostyn and Brian Stock to our university to speak to the delegation.
He added: "As Higher Education Partner to the football club and partner of the AFCB girls' teams, we enjoy a number of collaborative events with the club, including the BU Big Match, the BU family fun day and various player appearances throughout the year."
To read more about BU's work with AFCB, visit: www.bournemouth.ac.uk/afcb