BU has held its first alumni Business Breakfast event, giving graduates who live and work in the region the opportunity to meet and network.
The event was held at AFC Bournemouth – where BU graduate Rob Mitchell is Commercial Director – and offered alumni the opportunity to chat over breakfast before optional tours of the club and grounds.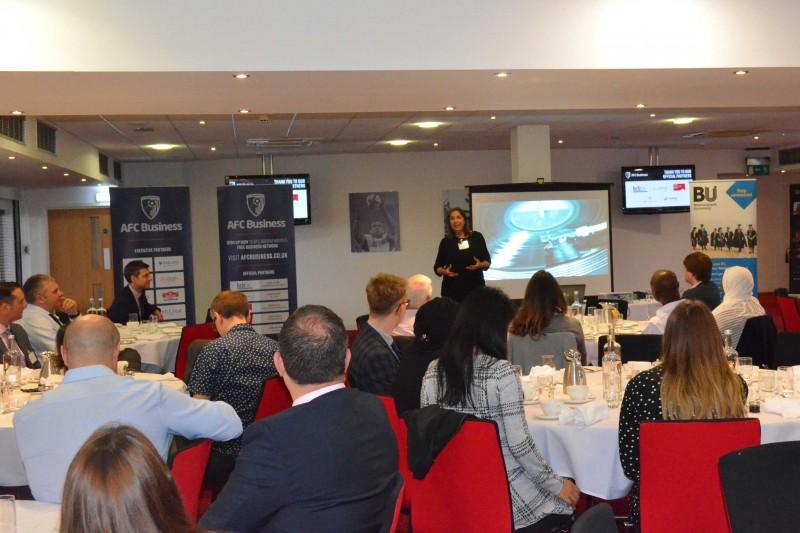 Communication coach Trisha Lewis, who graduated from a BU communication degree in 2005, gave a keynote speech at the event, sharing her insights into imposter syndrome – a psychological condition where people doubt their achievements.
She said: "Everyone I've spoken to has been really enthusiastic about the idea of having alumni events and saying what a great idea it is. I think people often drift off after finishing their degrees, and the idea of bringing people together but with this twist to it of business networking is a great combination.
"Bournemouth University is a constantly evolving and very vibrant place – every time I go there, there's something new happening and I quite like that vibe. I had some really good lecturers and tutors and met some fabulous people so it was an all-round good experience."
The event was opened by BU's Chief Operating Officer Jim Andrews, who encouraged the alumni to engage with the university.
"Our alumni are a valuable part of the BU community and will play a pivotal role in realising our vision and plans, and in particular our aim of being a catalyst for sustainable, social, environmental and economic growth and development," he said.
"We have a strong desire to work with local bodies to see more graduates staying and building their careers in the region, investing their skills and knowledge in the local community.
"By working together, we can increase our impact as we seek to realise our vision."
Alumni contributed over 600 hours of volunteering to BU across the 2017/18 academic year – offering support and services including guest lectures, shaping the future of BU programmes, and mentoring current students.
Jonathan Goode, Head of Alumni Relations at BU, said: "We held this event in response to feedback from our alumni that they would value more opportunities to network. We want to continue to support our graduates' careers, and providing a forum where they can connect and build new contacts is just one way of doing this.
"There was a real buzz at the event, as people from different programmes and years of study shared their experiences and a common bond which comes from being part of the BU community. We received really positive feedback and now plan to use this as the basis for a programme of alumni networking events."
To find out more about the BU Alumni Association and future events visit the Alumni webpages