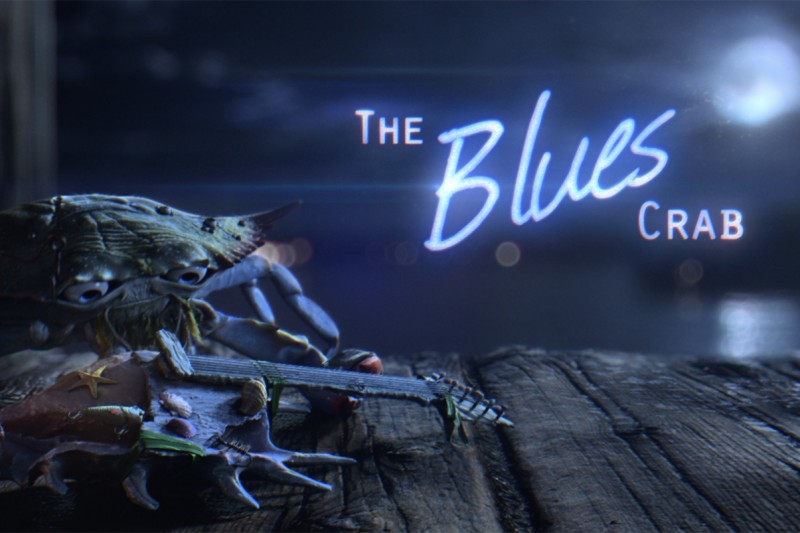 The Blues Crab tells the story of a gnarled crab's experiences with loss and sorrow, as he hopes to save a couple of young crabs from the life of blues he has led.
The film also credits the BFX Festival in part for its conception, as the film's co-creator Ben Cozens explains, "For me having the film premiere at BFX is hugely rewarding and quite special. When I met Ari [Rubenstein – creator of the film] at a BFX social evening two years ago, we found that we shared a mutual love for the music of Muscle Shoals (Alabama) and that was where the sonic concept for the film married with his visual ideas."
Ari Rubenstein, the film's creator, traces the film's conception back even earlier, "The Blues Crab idea originated from a family trip to the beach in Delaware. I took my family crabbing off a pier and, over time, my daughters started to empathise with these depressed – yet aggressive – blue crabs.
"One of my daughters turned to me and said, 'Dad, it sucks to be a crab, you should make a film about them' and the idea was born."
Ben Cozens continues, "The film is about learning from mistakes and listening to elders that have gone before. It's also very much geared towards the roots and meaning of Blues music."
The 15-minute short will be shown at the BFX Festival this year – at the Bournemouth International Centre – with Ari and Ben in attendance to talk about the film and how it was made.
Ari continues, "I've been to BFX for the past two years as a presenter, first for my company Blue Sky Studios to present our work on Ice Age 5, then last year talking to students about entering the VFX industry.
"It feels great to return this year 'walking the walk' by premiering our short film, born of a series of relationships I made while in Bournemouth. What I love about BFX is the omnipresent air of creativity and motivation I feel, from the students all the way through to the professionals and organisers, I can't wait to be back."
After BFX, The Blues Crab is set to go on tour to a variety of targeted film festivals globally. Ari said, "My hope is that we can all take pride in its reach and exposure."
The BFX Festival takes place between 3-7 October 2018 in Bournemouth, UK, featuring talks and masterclasses from industry professionals, bespoke screenings, and a Family Weekend to enthuse children in the world of visual effects, animation and gaming.
To be at the official premiere of The Blues Crab, or for more information about the BFX Festival, visit www.bfxfestival.com.