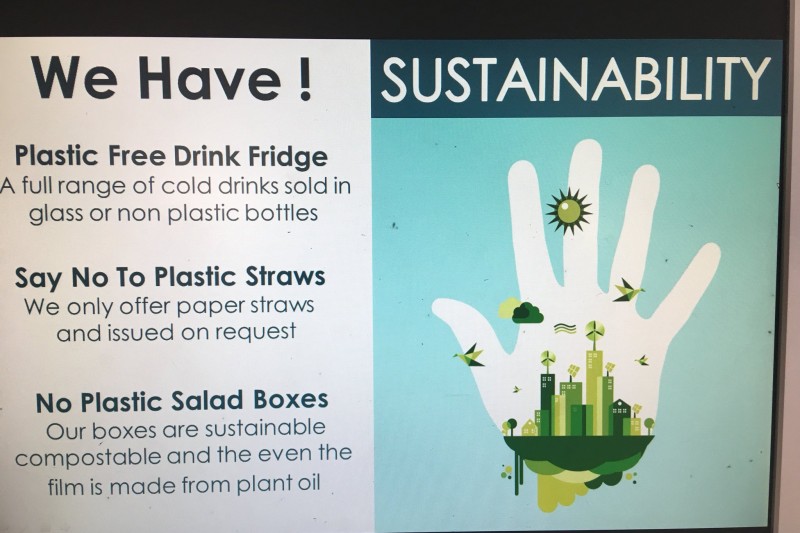 Sustainability runs through everything we do at BU and is firmly embedded throughout our new strategic plan BU2025.
We're really proud of what's been achieved in terms of our sustainable actions over the last year, including the steps we've taken to reduce the use of single use plastics.
Our in-house caterers, Chartwells, have been integral to this and have put the following actions in place to decrease the amount of plastic used throughout the university:
Plastic straws have been removed from all cafes and replaced with high quality paper ones
Takeaway plastic single use salad boxes have been replaced with fully biodegradable and compostable boxes made from board sourced from sustainable and renewable plantations
China bowls are now available for customers eating from the salad bar as a dine-in option
Single use sauce sachets are being removed and replaced with pump dispensers
A plastic-free shelf has been introduced into all drinks chillers, so drinks are sold either in glass bottles or a non-plastic format
Plastic takeaway cutlery has been replaced with wooden versions.
In addition to Chartwells' steps to reduce single use plastics, they have also shown ongoing commitment to BU's wider sustainability vision:
This autumn, they'll be reaccredited by the Soil Association for the Food for Life. This means that the food served on campus is traceable, freshly prepared and locally sourced where possible.
Chartwells catering outlets now use One World Water as the choice of water brand and a portion of the cost of a bottle goes towards water and sanitation programmes in developing countries. To date, the brand has raised nearly £17.5 million for sustainable water projects, providing safe water to over 3.3 million people in the world's poorest communities.
Chartwells have started to regularly donate leftover food to local night shelters in order to make sure that as much of our unsold food as possible Is given to those who really need it, instead of it ending up as waste.
Back by popular demand, they will be offering free, used coffee grounds for people to take home and use as fertiliser in their gardens. Available on Talbot Campus from The Atrium, and available on Lansdowne Campus from Bournemouth House, Studland House, and the EBC.
Promoting the range of Fairtrade products sold in the catering outlets and SUBU shop on campus.
To find out the latest updates from Chartwells including news on their latest promotions, pop-ups and competitions, please follow them on Twitter @BUeatanddrink.
Learn more about sustainability at BU – and how we're delivering the UN Sustainable Development Goals by visiting the website.