Graduates from BU's Faculty of Media and Communication took to the stage to receive their degree awards during two ceremonies taking place on Wednesday.
Around 1050 graduates, of 4000 total throughout the week, received their awards alongside three honorary doctorates; Trevor Watkins, a noted sports lawyer who helped rescue AFC Bournemouth from financial difficulties, Madeleine Wickham, the author who writes under the pen name Sophie Kinsella and Edwina Dunn, the BU graduate behind the Tesco Clubcard.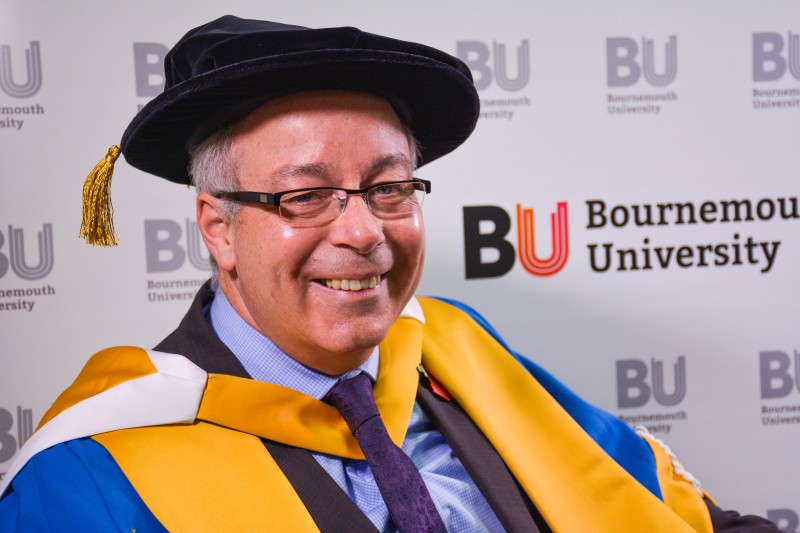 Trevor Watkins
Trevor, who received a Doctor of Laws for his outstanding contribution to the field of law, is most well-known for spearheading the campaign in 1997 to save the troubled AFC Bournemouth. Trevor said: "The university and football club do the same thing – they bring international attention to this town and encourage investment, good will and add value to where we live."
"It's a world of opportunity, no matter the divisiveness, no matter the debate and going to Bournemouth University is a great start for many students who will go out into this world and thrive."
Madeleine Wickham
Madeleine Wickham, a best-selling novelist under the pen name Sophie Kinsella, was honoured with a Doctor of Arts. Speaking ahead of her ceremony, Madeleine shared some advice with the soon to be graduates: "Be true to yourself, be authentic. If you want to create you have to create truthfully and it will resonate with other people."  
"Don't be scared of failure - it might take you a while to find your voice, whether it's in film, journalism, whatever it is, just keep trying. Find the stories that move you and they will move everybody else. Stay positive, keep trying."
Edwina Dunn
Rounding out the honorary doctorates was Edwina Dunn who graduated from BU in 1979 and went on to revolutionise the retail sector with the launch of Tesco's Clubcard. Edwina said: "I remember the excitement of graduating but it wasn't as big. This is an extraordinarily big stage which is much larger than the one I graduated on back in the day. It's great to see how the university has grown and I remember my time here very fondly."
When asked what advice she would give to our graduates, Edwina said: "Believe in yourself. Believe in the power you have within you and follow your passion."
Trevor, Madeleine and Edwina join graduates from courses such as public relations, computer animation and law who now have their degrees and will head into the wider world to begin their careers. Their graduation ceremonies were watched online around the world, including countries such as Taiwan, Jordan and Bulgaria.
To see a gallery of images from Wednesday's graduation ceremonies, visit BU's Pinterest page.