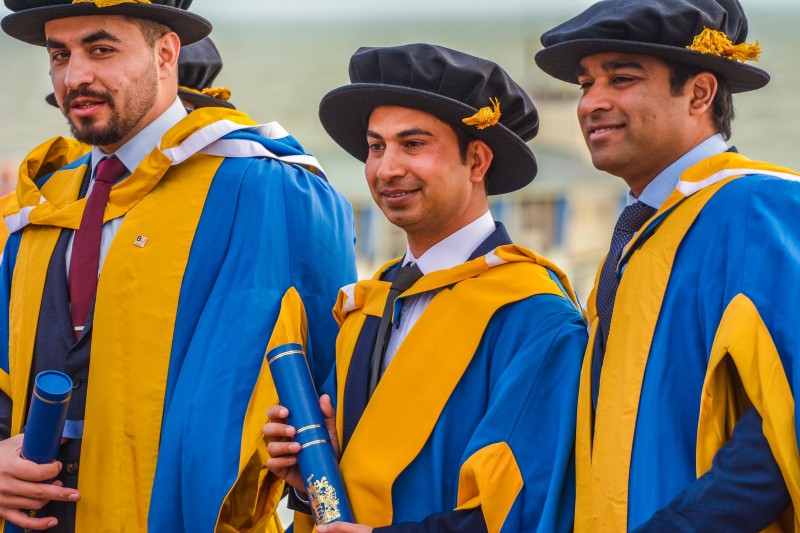 Across the week, 4,000 students have crossed the stage at the Bournemouth International Centre (BIC) to be conferred their degrees by BU Vice Chancellor Professor John Vinney.
On Thursday, the Faculty of Science & Technology ceremonies saw more than 1,000 graduates joined by 3,699 members of family and friends. Former Pro Chancellor and BU Board Member Giles Sturdy MBE received an Honorary Doctor of Education while an Honorary Fellowship was awarded to Stephen Thorne.
A former Head of Planning and Regeneration for Borough of Poole, and Commodore of the Maritime Reserves, Stephen said: "I think the reputation that Poole and Bournemouth have as a result of the university is second to none and I think through their estate and strategy, the building that's gone on and the student experience that's resulted, puts Bournemouth in the top echelons of universities in the country."
Giles, who received his MBE from Her Majesty The Queen in 2008 for his work for the environment and economy as part of the National Farmers' Union, said: "It's been wonderful being associated with the university and of course it's done so brilliantly!
He added: "The university has gone up in the league tables, with a tremendous global reputation now, some of its courses are recognised for being some of the best in the country. It's all really due to the leadership from the vice chancellor and his team it's been very inspiring being on the side-lines supporting it."
Giles and Stephen crossed the stage with students from BU's Departments of Archaeology, Anthropology & Forensic Science, Computing & Informatics, Creative Technology, Design & Engineering, Life & Environmental Sciences and Psychology.
BU's graduation ceremonies, which are live streamed over YouTube, have been watched online in countries around the world, including the Netherlands, Bangladesh, and Finland.
To see a gallery of images from Wednesday's graduation ceremonies, visit BU's Pinterest page.