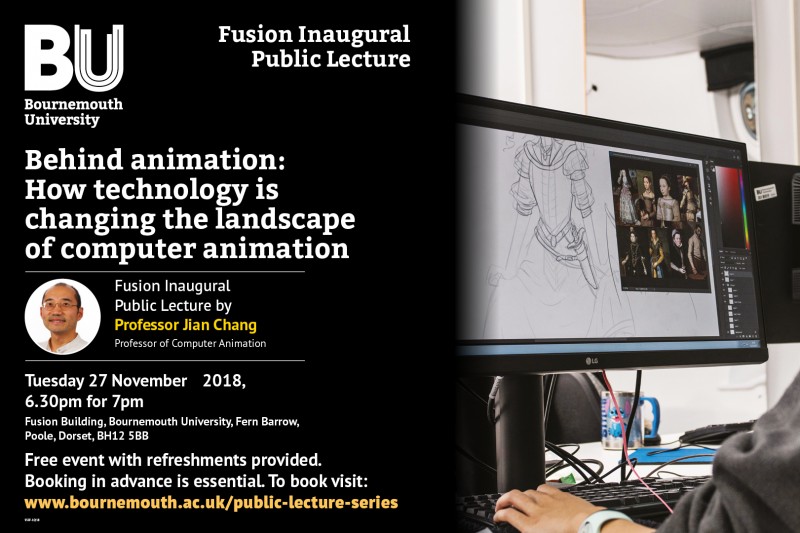 The next lecture in Bournemouth University's popular inaugural lecture series will take audiences on a tour through the history of animation to its modern day uses. Computer animation merges an appealing form of art with innovations in computing technologies, creating visual pieces and stories beyond our day-to-day experiences and inspiring generations.
In this inaugural lecture, Professor Jian Chang, Professor of Computer Animation at Bournemouth University (BU) will give an introduction of the history of computer animation and related technologies, illustrating how this has developed to the present. He will then look at what the future holds and the ways in which technology is evolving and changing our definition, production and consumption of computer animation.
"Animation is a fascinating subject." explains Professor Chang, "Since its merger with computer technology, we have seen very rapid advances in terms of what animators are able to produce. Moving forwards another step; we're now seeing emerging technologies applying animation to virtual reality and augmented reality, which have applications in entertainment, education, manufacturing and healthcare."
"As well as exploring the story of animation, I'll be drawing on my own research expertise which focuses on physically based modelling, virtual reality and novel uses of human computer interaction. Most recently this has translated into an innovative project with partners across Europe exploring the uses of digital and augmented reality at important heritage sites. It's an exciting project, which has the potential to change the way we experience history and culture."
Professor Chang is part of BU's National Centre for Computer Animation which has been a pioneering force in the establishment of computer animation as a discipline for 30 years. Through its teaching and research, NCCA blends together technical developments in computer animation with artistic principles and practice. Students have gone on to work on internationally renowned films such as Gravity, Interstellar and Ex-Machina.
BU's Deputy Vice Chancellor, Professor Tim McIntyre-Bhatty said, "Computer animation is an exciting and rapidly evolving area. The outstanding work of the staff, students and graduates of our National Centre for Computer Animation means that BU has long been at the forefront of developments in computer animation."
"Professor Chang has built up a wealth of expertise in computer animation and I am delighted that through his Professorial lecture we will all have the opportunity to share insights he has learned from his career, as well as hear his thoughts on the future evolution of this important field."
Professor Chang's lecture will take place at 7pm, Tuesday 27 November on Talbot Campus. Doors will be open from 6:30pm. Free tickets can be booked here.