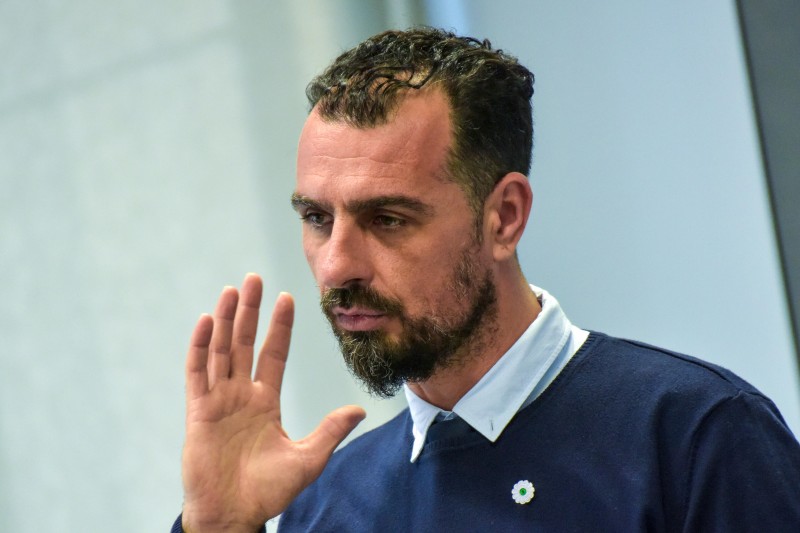 In 1995, 19 year-old Bosnian, Rešad Trbonja, witnessed first-hand the horrors of war, as his home town of Sarajevo was laid siege to by the Yugoslav People's Army and later the Bosnian Serb army. This encirclement, masterminded by convicted war criminals Radovan Karadžić and Ratko Mladić, was to become the longest siege of a capital city in the history of modern warfare, with more than 13,000 deaths on both sides of the conflict.
Rešad, now a coordinator for the UK-based charity, Remembering Srebrenica, recalled to an audience of staff, students and members of the public on BU's Talbot Campus, how the month of November sits poignantly as the month twenty-three years ago, that he was 'born again and freed', being discharged from the army.  
Then a teenager with a love for The Sex Pistols, The Ramones and converse trainers, he described situations whereby friends of seventeen years became enemies, and blood donations became currency in exchange for food. Rešad offered chilling perspectives on how the human condition is affected during times of war and conflict.
"I discovered that my mate, who I was willing to die for, was actually not willing to die for me. There is nothing about war that you can predict. Every day in the war is totally different. Sarajevans were bombarded, scarred, killed by snipers, all sorts of methods that you can't even imagine."
In explaining how divisions between friends and neighbours drove citizens apart, Rešad recounted: "There might be something in-between two of you, a small crack maybe, that every single politician in this world aims for in order to say that it's us and them. We lived next to each other for centuries, saying hi and bye, sharing Eid, sharing Easter and sharing Christmas.
"Society was so well integrated that Christian households wouldn't keep pork because they knew that if they did, their Muslim friends and neighbours wouldn't be able to come and share lunch with them. And yet, we ended up killing each other so beautifully.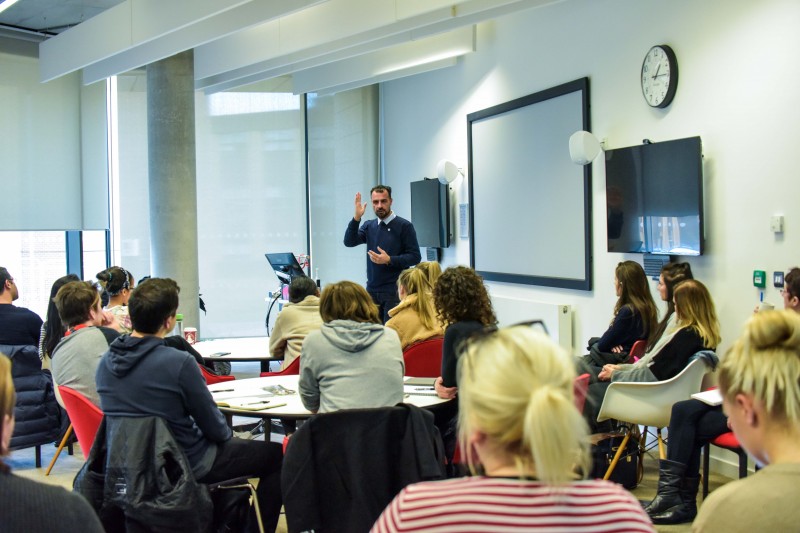 "Ask yourself for a second, how much do you really know about the person living next door to you, or the person next to you in your class. Living next to each other is not good enough. This is the person where you knock on their door when you need a cup of sugar – it's not going to be your mum, dad, auntie or uncle. Do you know their joys and fears?
Speaking after the event, Policy and Performance Manager for Bournemouth Council and the Borough of Poole, Sam Johnson, who organised the event alongside BU's Head of Community Partnerships, Ian Jones, said: "The things that Rešad said really stick in my mind as I try to understand how genocide happened. I thought it was important to bring that message here [to BU], it's about underestimating rhetoric, which is important to share with academics, and among people in leadership positions. We need to learn the lessons of the past."