A delegation of staff from Bournemouth University is currently in China to visit key university partners, and develop existing relationships at institutional level.
The delegation, including BU's Chief Operating Officer Jim Andrews, are visiting schools and universities to build on existing relationships in the country, as well as to agree next steps in expanding BU's current activities and to achieve a greater impact across research, education and practice.
As a part of the visit, the delegation attended Dongditou Middle School in Tianjin, where they met Mr Liu Peng, one of the 60 Chinese football coaches who attended the China Football Coach Training Programme at BU in 2018.
Jim Andrews and colleagues were invited to see the impact of the BU training on Mr Liu Peng's current practice, and to learn about how football is taught in a rural Chinese Middle School, and the challenges facing the community.
As Bournemouth University prepares to host the BU Big Match, an AFC Bournemouth match vs Liverpool FC that has been designated as the BU Big Match to celebrate the ongoing partnership between the two organisations, Mr Liu Peng was presented with a signed AFC Bournemouth football shirt in recognition of the partnership.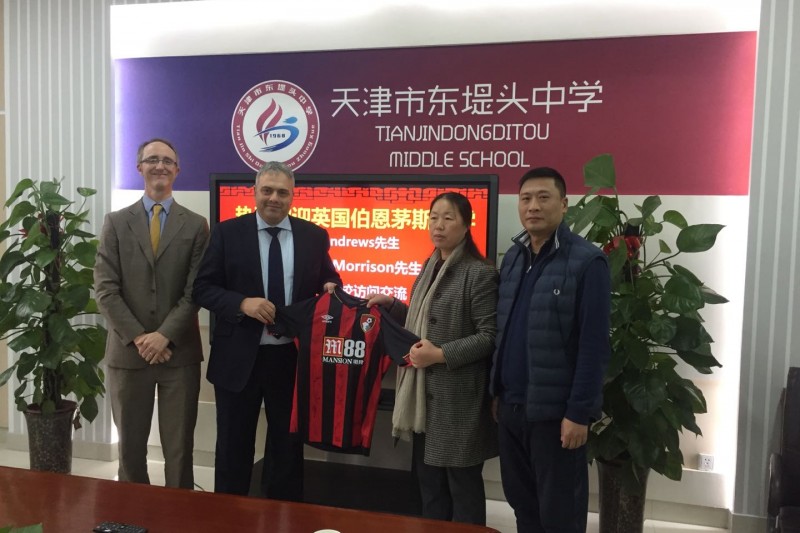 The Chinese football coaches that attended BU in 2018 were delivered training in partnership with AFC Bournemouth, and the visit was an opportunity to continue to develop links between BU, AFC Bournemouth, and the Chinese football coaches who have benefitted from training from both organisations.
The China football coaching programme has been running for three years, with BU the only higher education institution in the UK to be awarded the programme three years in a row. Alongside AFC Bournemouth and the Dorset FA, over 180 Chinese football coaches have benefited from the training to date.
The BU Big Match is due to take place on Saturday 8 December, between AFC Bournemouth and Liverpool FC. The match, live on Sky Sports, will benefit from a range of Bournemouth University activity taking place before and during the match, as BU celebrates over six years of official partnership with the Cherries, with AFC Bournemouth the official higher education partners of the Premier League football club.