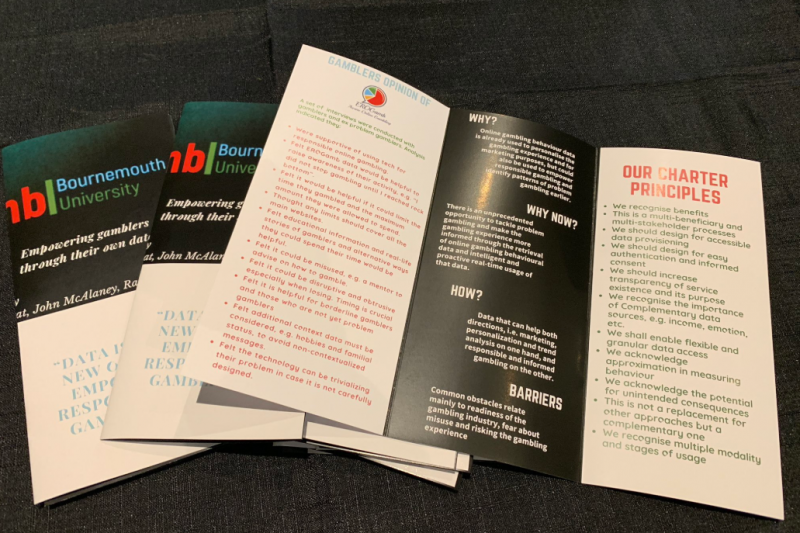 Empowering gamblers through their own data pamphlet
The team presented the EROGamb project at William Hill Responsible Gambling week  (Nov 5th – 7th, 2018).  EROGamb project lead, Dr Raian Ali, gave a seminar at William Hill in London, which was broadcast to their personnel in multiple sites around the world.  Dr Ali talked about the power of gambling behavioural data owned by gambling companies in shaping better interventions and goal settings for responsible gambling and helping players to take more informed decisions. Dr Ali has also coordinated a roundtable discussion around the topic with a set of industries representatives. A white paper is to be published soon to explain the landscape and challenges and set a roadmap for the research and practice in this area.
The team also presented the EROGamb project and Digital Addiction research in general at the ESRC Festival of Social Science in St. Peter's Church Bournemouth attended by GamCare and had extensive and fruitful discussions with industry attendants and student money advisors at Bournemouth University. The event was delivered by Dr Emily Arden-Close, Dr John McAlaney, Dr Elvira Bolat and Dr Raian Ali.
Dr Ali participated in EGR Technology & Innovation Summit, 26-27 Nov 2018, Hilton London Syon Park, UK, as a panellist in a panel around The Artificial Intelligence revolution: The path to A.I. transformation. Dr Ali advocated the need to augment AI with human factors for a better responsible gambling where acceptance of correctly generated data-centred recommendations is also about their framing, timing, presentation and the role of players in shaping them.
Finally, Dr Ali gave a talk about the role of technology in both facilitating and also combatting Digital Addiction. The talk was delivered at Weymouth College as part of the IET Events. The audience, who are mainly software engineers, discussed how software evolved from being a business-support tool to a powerful persuasive tool capable in catching users attention and immersing them in the online space more.