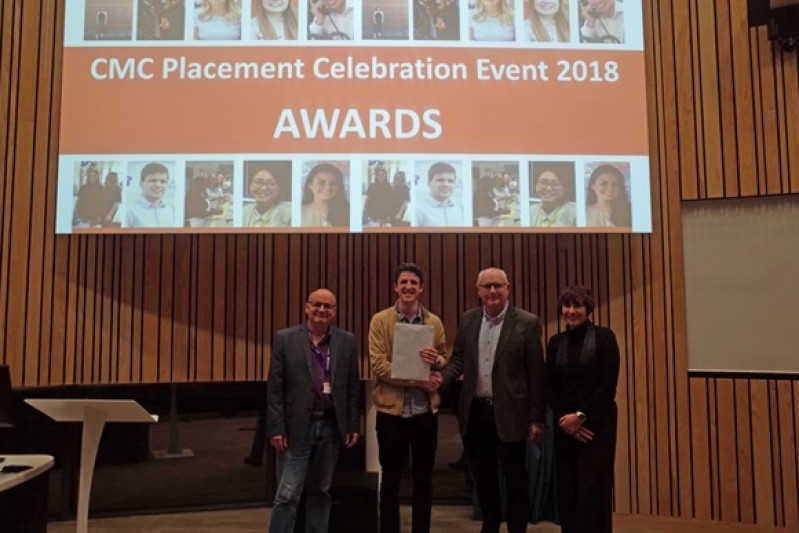 Students and staff from the Department of Corporate and Marketing Communication (CMC) have gathered on campus with guests from the communication industry for Placement Celebration 2018, an event held to recognise the important contributions of the current final year cohort during their industry placements in the 2017-18 academic year.
The evening kicked off with networking and an exhibition of posters created by final year students, documenting their experiences and achievements while in industry. While all guests enjoyed looking over the posters, students from the first and second years of CMC were particularly interested in learning more about the experiences that await them on placement.  
Professionals who attended the celebration included Darren Northeast from Darren Northeast PR and Anthony Newsom from Bright Blue Day. Both were kind enough to give addresses on the value of placement students in the workplace and highlighted placement and job opportunities at their companies. The students who had completed placements at these companies also offered their views, which showcased the dual perspectives on placements.
Grace Meaney and Gabby Dunne from éclat, Camila Ancell-Begley and a colleague from Rock Recruitment also attended Placement Celebration 2018, welcoming the opportunity to network with placement students, past, present and future.
Awards for the best poster on each degree were presented to Lauren English from BA (Hons) Politics, Josie McLachlan from BA (Hons) Advertising, Kaisha Patel from BA (Hons) Marketing Communications and Francesca Turton from BA (Hons) Public Relations. It was also announced that BA (Hons) Marketing Communications student, Jack Wallis was this year's recipient of the BU Annual Undergraduate Long Placement Prize.