BU student Megan Bennett is set for a role at the Women's World Cup football tournament in 2019, having impressed during her placement at the 2018 men's World Cup in Russia.
Megan, who is in her final year of BA (Hons) Television Production at Bournemouth University, will be working as Deputy Shift Manager during the Finals, helping to produce content for the broadcast of games.
The opportunity arose after Megan completed her work placement at the 2018 football World Cup in Russia, where she worked as a Media Publisher.
Megan said, "I first heard about the 2018 World Cup placement on an email from our placement advisor, she sent us loads of opportunities but, naturally, seeing the words 'World Cup 2018' really stood out to me so I sent over my CV as instructed and got invited for an interview, and got the job!
"My job title was a 'Media Publisher', in a team with eight other publishers based at the International Broadcast Centre in Moscow. The job required us to sort and upload documents that were linked to video file to the 'Fifa Content Interface', which is where broadcasters around the globe would be able to access, download and stream the World Cup footage at the click of a button. We were there to ensure the broadcasters had everything they need that is linked to the footage."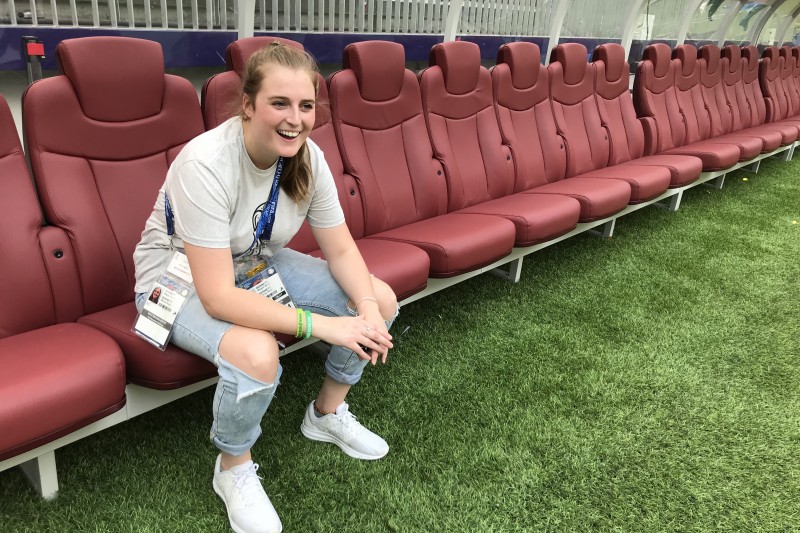 Megan worked for the duration of the competition supporting the broadcast output that went out globally, and her performance caught the eye of the broadcasting service there. Megan continued, "While I was in Russia it was mentioned by my managers that there would be an opportunity for a few of us to work at the Women's World Cup in Paris.
"What became apparent to me whilst I was out there was that most of the employees were there on recommendation; it is almost always your reputation that gets you a job at a large competition. Recently when speaking to my manager about the opportunity at the Women's World Cup he mentioned that I had impressed all four of my managers to the point that they really recommended I get a job at the next event. How I conducted myself in Russia during my placement contributed to the opportunity I am now faced with." 
The Women's World Cup takes place in France from 7 June – 7 July 2019, affording Megan to visit a second major city as a result of her broadcast work.  Megan said, "I will be doing a similar role as to what I did in Russia, however I have been promoted to a Deputy Shift Manager, which means I will be my managers 'right hand man'"
Megan puts her opportunity to work at the Women's World Cup down to the experiences she had during her placement. Every undergraduate student at BU is offered the opportunity to undertake a work placement as a part of their degree.
While the job is not easy, Megan is looking forward to joining up with the team in June, as her studies at BU draw to a close, "It's not easy working away from home for 6 weeks and the job is demanding at times, but the people you meet and the things you see are just immeasurable and truly a once in a lifetime experience."
For more information about placements at BU, visit: https://www.bournemouth.ac.uk/why-bu/employability/placement-stories