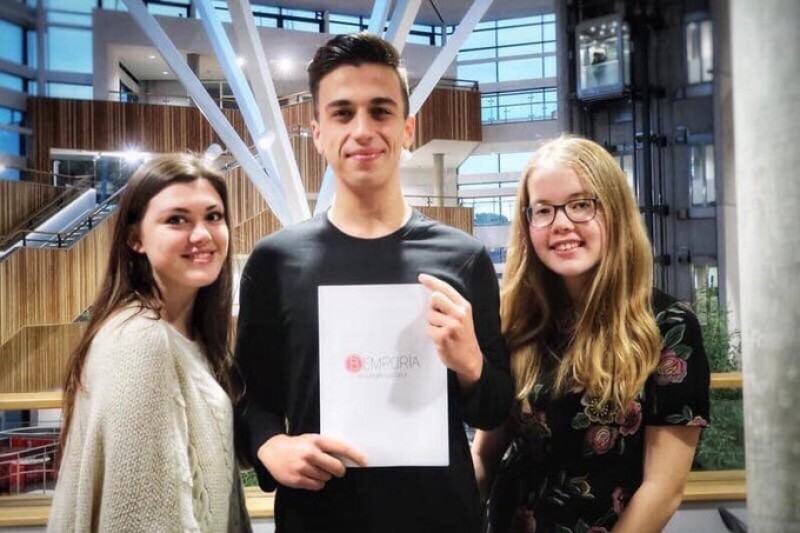 Two teams of students from Bournemouth University have been shortlisted in the Chartered Institute of Marketing (CIM)'s The Pitch competition. B Emporia and J² are two of the top ten teams from across the UK going through to the final round of the competition. This marks the third year that BU has featured in the competition, having reached second place in 2017 and third place in 2018.
Now in its eighth year, The Pitch sees students from leading universities compete to respond to a live client brief in a bid to win the title of 'Marketer of the future'. This year, teams put forward ideas to support Hawaiian Tropic's drive to help young women feel confident and protected in the summer months.
The team members – Joel Luiz, Felicity Morel-Rankin, Rebecca Renouf, Jack Donaldson and Jonathan Shaw – are studying Marketing and Advertising, and impressed the judges with their responses to the brief. The judging panel this year includes marketing experts from Hawaiian Tropic, LIDL, Printt, Mintel and CIM.
The shortlist will now be narrowed down to three, with the finalists being taken through to the 2019 CIM Marketing Excellence Awards on 11 April where the winning team will be announced and presented with the 'Marketers of the Future' award.
Gemma Butler, marketing director at CIM said: "We've been inundated with high-calibre applications this year. It's been fantastic to get a glimpse of the student talent across the UK and we're very much looking forward to seeing the finalists bring their ideas to life in the final held at Moor Hall on the 14th February."
Last year, three second year students, Siobhan Glover (BSc Marketing), Ettie Greenwood and Joshua Rhodes (both BA Marketing Communications) won the silver award at the competition, with support from Melanie Gray, Graham Goode and Shenel McLawrence from the Faculty of Media and Communications.
Melanie Gray, BU Senior Lecturer in Advertising, said: "I'm really pleased that two of our student teams from BU have made it to the final!  This the third year in a row that we've has reached this stage – it's great to support the exceptional talent that we have at BU, and huge congratulations must be made to the tutor team as well as students taking part.
She added: "The Pitch is a nationwide competition aimed at recognising the marketing talent of the future. We are now all looking forward to final presentation pitches which take place at the CIM Headquarters in February."
To read more about the CIM's The Pitch competition, visit: https://www.cim.co.uk/events/the-pitch/students/