The Buddhist practice of 'live release' – releasing creatures destined for slaughter into the wild – is observed widely across the world, but has become a major source of invasive species entering aquatic ecosystems.  These practices, meant for showing mercy and kindness, are potentially causing harm to ecosystems in the long run.
This can be averted using guidance developed by scientists from the University of the West of England (UWE) and Bournemouth University (BU) in the UK, Kerala University of Fisheries and Ocean Studies (KUFOS) in Kochi (India) and AE Travel Ltd in Delhi (India).
The Buddhist practice of 'live release', entailing the release into the wild of creatures destined for slaughter, is inherently pro‐conservation and humane. 
However, these actions intended for good could actually be causing significant harm to ecosystems where practitioners release animal species that are not native, and are potentially invasive, at release sites. 
New research has found that significant conservation consequences can occur where these practices lead to invasive species being unwittingly released into an ecosystem to which they do not naturally belong. This practice is so prevalent that it has created an emerging industry in which animals are being reared in captivity, or collected in the wild, specifically for people to purchase and release them into novel environments.  Many of the characteristics of readily-reared animals are also common to their capacity to become invasive.
Dr Mark Everard (UWE), Adrian Pinder (BU), Dr Rajeev Raghavan (KUFOS) and Gaurav Kataria (AE Travel Ltd) have collated evidence, citing one legal case amongst a range of other examples, about the risks of the live release of potentially invasive aquatic species, such as fish, frogs, turtles and lobsters.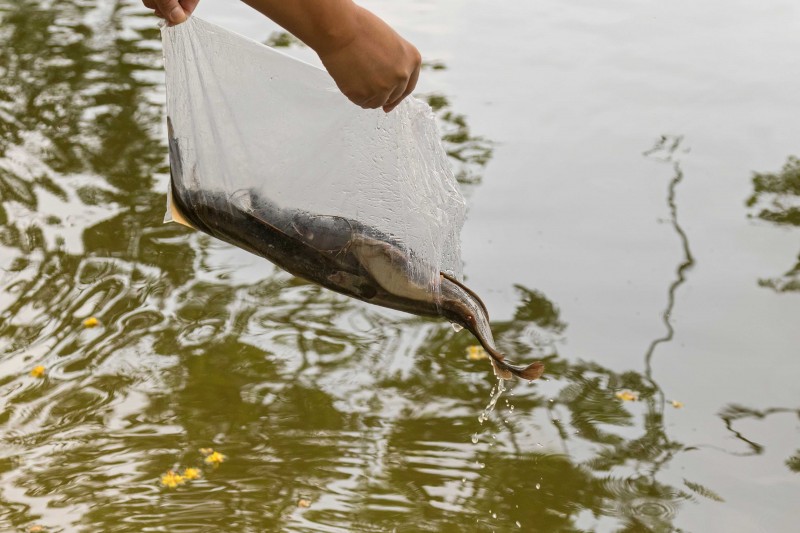 The entirely laudable purpose of the practice of 'live release' – also known as 'fang sheng', 'mercy release', 'prayer animal release' or 'Tsethar' and common to all schools of Buddhism (Theravada, Mahayana, and Vajrayana) – is acknowledged by the authors.  However, the release of non-native organisms may result in serious, possibly irreversible, conservation threats to aquatic biodiversity and natural ecosystems, with associated adverse consequences for human wellbeing.
Dr Mark Everard said, "It is essential that its practitioners are aware of these risks if their actions are not to work diametrically against the pro‐conservation and humane intents of the practice.
"Ensuring that live release occurs safely necessitates raising awareness, with guidance informed by science, to ensure that well-meaning actions do not result in perverse, environmentally destructive outcomes."
Adrian Pinder continued, "We are proposing four simple precautionary principles for ecologically safe live release, for dissemination to the practitioners of this entirely laudable Buddhist practice." 
These four principles are that released animals are:
native to the geographical range in which they are to be released;
of local genetic provenance, to avoid dilution of locally adapted strains;
released only in numbers that will not dominate the ecosystems into which they are placed; and
unlikely to change ecosystem balance (for example, by significantly increasing predation or sediment mobilization).
Dr Mark Everard continued, "This research arose out of our concerns that enactment of the inherently pro‐conservation and humane intent of live release appears to represent a significant and globally distributed route for the release of alien, invasive fish and other species into aquatic ecosystems.
"In the long term, and left unchecked, introducing invasive species into non-native environments could have serious consequences, and could even see population decrease or loss of native species from their environment. Ecosystem disruption can also have significant negative effects for people dependent on these aquatic resources, and this is something we are looking to protect."
Adrian Pinder concluded, "We support the honourable intent of Buddhist live release, and this is not an attempt to halt religious practice – quite the opposite, in fact – as we have developed this guidance for the Buddhist community to ensure that honourable intentions translate into intended pro-conservation and humane outcomes, rather than their exact converse".
For more information about the UWE-based International Water Security Network, visit http://www.watersecuritynetwork.org.