The Bournemouth University Law Society provides a variety of events throughout the year to help Law students make the most of their experience at BU.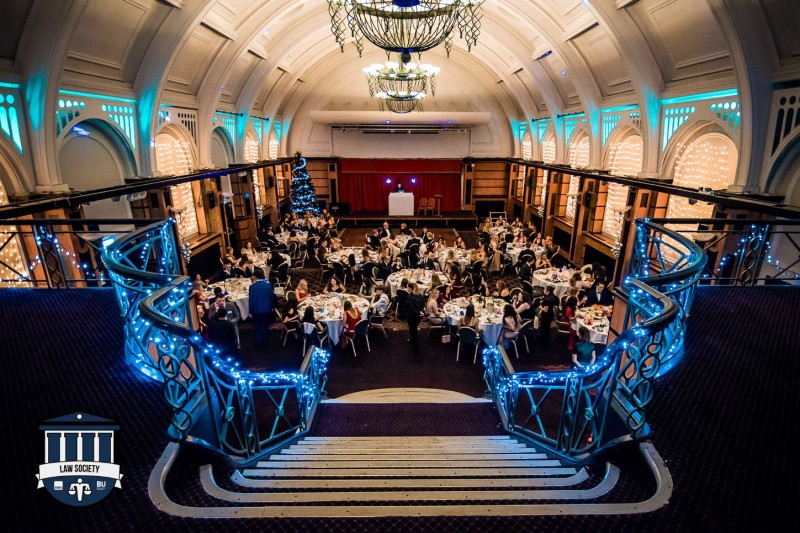 Now in its twelfth year, the ball is widely considered to be the highlight of the BU Student Law Society's busy calendar of events, which also encourages participation in more vocational activities throughout the year and creates a supportive atmosphere between different year groups on the various Law programmes.
The Ball, which took place before Christmas at the Royal Bath Hotel, began with a drinks reception, followed by a formal dinner with festive menu, accompanied by celebratory crackers and party poppers. Law students also enjoyed a flower wall provided for commemorative photography and a photo booth.
Two guest speakers also shared their advice and experiences. President of Bournemouth and District Law Society Edward Holmes, a Solicitor with Forest Edge & Meesons, offered insightful reflections on experiences from his legal career, encouraging and inspiring students preparing to embark on their professional journeys.
Graham Beards, Financial Director at BU, imparted advice on the many opportunities offered to those studying Law at Bournemouth.
Guests spent the rest of the evening celebrating, socialising and dancing. 
Law Society President Skye Partridge said: "The Christmas Law Ball is a chance to kick up our heels at the end of a very active year for the BU Student Law Society. Our calendar includes a Mooting programme and networking events, as well as trips to the Old Bailey, the Houses of Parliament and the courts at Lincoln Inn Fields. 
"The BU Student Law Society aims to create a supportive Law community at BU and helps our students practice valuable skills needed for legal careers; getting together for an annual festive celebration cements this community."