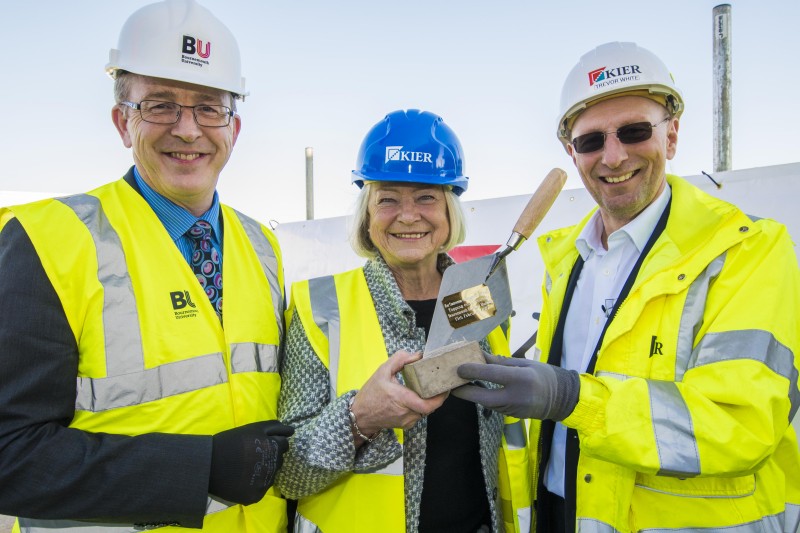 BU is continually striving to develop and enhance our estate to better reflect the innovative and collaborative way our students and staff work together and to ensure we provide the environment and facilities to deliver BU2025. The landscape of our estate has changed significantly over recent years and will continue to do so with the opening of two new buildings next year – in addition to the next phase of our estates plans that involve significant refurbishments and new academic buildings, the first of which is aimed to commence construction in 2020.
Bournemouth Gateway Building (BGB)
BU's new Chancellor, Kate Adie marked the completion of the building's concrete frame and was joined by guests including the High Sheriff of Dorset, Deputy HM Lord-Lieutenant of Dorset, Mayor and Mayoress of Bournemouth and MP Conor Burns. BU staff, students, partners from health and social care organisation and from the wider community were also invited to the ceremony and enjoyed the opportunity to look around the new building which will become the main academic building in Lansdowne and a new home of the Faculty of Health & Social Sciences when it opens.
Jim Andrews, BU's Chief Operating Officer said, "It is brilliant to see the building take shape, and we are looking forward to completion. It will become a hub of activity for education, research and practice as BU continues to invest in the future and a key part of our investment in health, social care and medical sciences. We thank Kier and all members of the project team for their continued work to make this building all it can be."
Due to be completed and in use next year, BGB will deliver a unified base for the faculty's academic and support activities as well as being open and accessible to all BU students, staff and the community. It will also include a library, social collaborative learning space, lecture theatres, research facilities and be the academic base for health and social care students.
Head to our Pinterest board to take a look at some of the photos from the ceremony, as well as current images of the building to show how work is progressing. You can also visit the website to watch a short video which demonstrates how the development will change the landscape of our Lansdowne site.
Poole Gateway Building (PGB)
Work to PGB remains on track and BU expects to receive the keys this summer. All of the specialist equipment for academic areas including computer animation, media production, sound and games technology, will then be installed and configured so it can be tested this autumn, before opening next January.
The four-storey construction will provide high-quality technical facilities that support undergraduate and postgraduate courses as well as research. It will include facilities for TV, audio studios, sound editing labs, media production spaces, green screen with motion capture suite, PC and Mac laboratories and cross-faculty collaboration spaces.
These facilities will predominantly be used by the Faculty of Science & Technology and the Faculty of Media & Communication. They will also be used by the Faculty of Management and the wider student body. 
Take a look at the latest images to see what the building looks like internally. There are also a number of computer generated images to show what some of the rooms will look like once completed. 
Major investment in Christchurch House and Studland House
Last week the Board approved two further investments to support the development on BU 2025 with significant developments of parts of Christchurch House at Talbot and all of Studland House at Lansdowne.
Christchurch House
Part of Christchurch House will be refurbished to create high-quality, specialist labs that will facilitate the new academic provision in biological and biomedical sciences, in line with the BU2025 strategic investment themes and a variety of other subjects within the Faculties of Health and Social Sciences and Science and Technology
This first phase of work to Christchurch House will begin in April and is expected to be completed by this September.
Subject to separate board approval, further investment in Christchurch House is planned to enhance science provision between 2020 and 2025.
Studland House
The construction of the Bournemouth Gateway Building will act as a catalyst for the wider reconfiguration of the estate at Lansdowne. The project will bring a wide variety of Professional Services together in Studland House. The building will be refurbishing and remodelling to create a fit for purpose, modern and collaborative working environment.
Work will be delivered in three phases, the first of which will take place this summer when IT Services will relocate from the sixth to the second floor of the building.
Looking ahead to future phases, existing teaching spaces on floors one, three and four will be converted to office accommodation and the rest of the building, included office, social spaces and support facilities will be refreshed and enhanced.
It is expected that all the work will be completed and all relevant staff will be based in Studland House by January 2021.
New academic building – Talbot
The Estates Development Framework (EDF) is BU's long term plan for the development of our estate and was first approved in 2012.
One of the major developments within this next phase of the EDF is the construction of a new academic building on Talbot, next to the Poole Gateway Building and work has been progressing on our proposals.
The new building will provide facilities, principally for the Faculty of Science & Technology, including computing and psychology labs and staff offices, as well as a new lecture theatre, seminar rooms and specialist research facilities for use by all staff and students.
We are planning to hold a public exhibition this spring and all staff, students and local residents will be invited to take a look at the plans and provide feedback. Subject to planning and Board approval, work is due to start in spring 2020 to enable completion in time for the 2022-2023 academic year.
We will continue to keep you updated on all of our major projects, but please take a look at the website to find out more about how we're developing our campuses.