Yes, I am the droid you're looking for...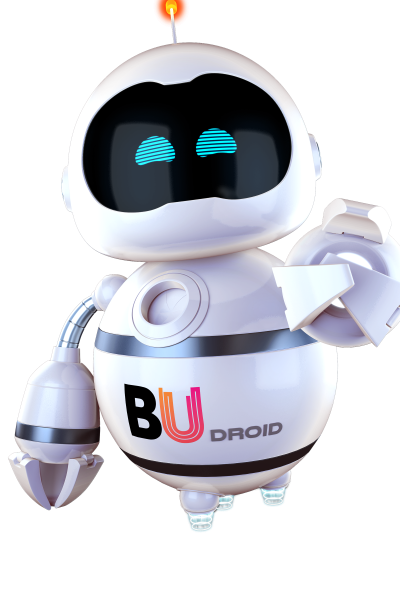 Name: Bournemouth University Droid - BUD for short
Age: Still loading…
Occupation: Bournemouth Influencer, NSS Advocate, Aspiring Actor
Favourite book: Fantastic Droids and Where to Find Them?
Favourite car: KITT
Favourite animal: Pac-man
Favourite pick up line: "You must be tired! You've been running your code through my CPU all day"
Favourite dance: The Floss.
My life's been a funny one. I was developed by people in the NCCA, a BU department that's produced many talented animators and VFX artists, including BAFTA and Oscar winners.
My original purpose was Cyber Security but I wanted to do more. The beauty of being at Bournemouth University is that there's so much to choose from. I originally tried out for the rugby team but they kept mistaking me for the ball, so I had to look elsewhere. I even tried joining the media production team but after plugging myself into one of the computers to charge and accidentally wiping all the footage… well, they weren't best pleased.
I started to wonder what else I could do - what could my purpose be? I'm able to access everything that's ever been on the internet, so there was no shortage of options for me. I spent my time watching my favourite movies (iRobot and the Iron Giant) and I've actually been the understudy to many different film stars like EVA, Optimus Prime and – despite what George Lucas might have said - I was a damned good BB8. I was having a good time but I hadn't found my place in the server (world).
Then I found the BU Marketing & Communications team! They brought me in for a creative brainstorm and we got working on the National Student Survey (NSS) for all final year students! The team thought that since I was created at BU by a member of staff and a student, I helped to reflect the values of the university about hard work, co-creation, innovation and forward-thinking… it helps that I'm easy on the eyes too.
I've scoured the internet, analysed the data and fought off many viruses to learn just how important your honesty on the NSS can be for future BU students – so please, enjoy my video but do take the time to share your BU journey and complete the NSS.
Written by BA (Hons) Communication & Media student, Will Allen-Miles, while on placement with BU.