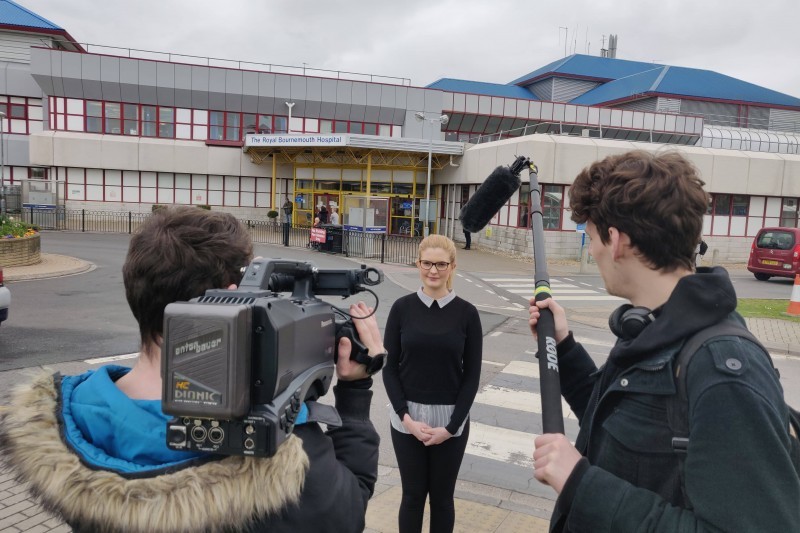 NetworkBU is a co-organised graduate project curated by TV students which will be marked as assessed work. The students divided responsibilities according to their own individual specialisms and skill sets with each member of the team held an equally important role to make the day run as smoothly as possible. NetworkBU covered the day's that Britain was scheduled to leave the EU with an 'easy-to-understand' approach from 5pm. 
The project provided on-location reporters around the country, live debates, pre-prepared news packages and immediate up-to-date news as the day unfolded. Live updates on the night were published from the NetworkBU social media accounts, asking people to send in their thoughts, opinions and concerns surrounding Brexit.Ahead of the big day, the team shot more than 22 short films from all over the country which will air throughout the evening, including interviewing members of the public, speaking to local politicians, local hospitals, as well as filming some Brexit 'jargon busters' to help educate and build awareness. Other features included fascinating insights about Brexit from the school children of St Luke's (C of E) Primary School in Winton, Bournemouth.
A few team members have journeyed all the way over to the Irish border to film a documentary special - spending time with people from different backgrounds and viewpoints. The programme focuses on local communities and exposing their concerns and problems with Brexit to an English audience - from local farmers to mass organisations who are based on and around the border.The team recruited other BU students from differing courses and age groups to collaborate and build on forming a professional 'Brexit Special' news service for the evening. 
The company amounted to nearly 100 volunteering students working on different aspects of the project. BU students from areas like Journalism, Marketing Communications, Politics and Law have taken part, as well as Arts University Bournemouth (AUB) make-up artistry students. The all-student team invested their time, effort and money to make the project happen, with help and support from their friends, family and their advisors from Bournemouth University. 
BU Supervising Academic, Trevor Hearing, said: "It is such a critical moment in the life of the nation and students have risen to the challenge of communicating the complexity. It's great to see so many students from across the Faculty involved. The scale of this project really puts Bournemouth on the map as the place to learn real-world programme-making skills. I am confident we will see many of those involved on the credits of broadcast television in the future."
This has been a fantastic opportunity for students from all different courses and age groups to put their heads together and put the theory they have learnt over their time at University, into practice. Graduate projects at Bournemouth University allow students to create something to be proud of, which they can refer to when moving forward into their future careers. 
Liam Hopley, Head of Production at NetworkBU, who studied BA Television Production said : "I can't wait for audiences to see what we've been working so hard on over the last few months so tune in at 5pm on 29th March for your all-in-one Brexit extravaganza!"
The broadcast will go live during the same week that BU TV Production alumni Gulliver Moore and Ollie Clubb air their Brexit miniseries 'Small Town Politics' on Sky Arts, as part of Sky Art's Art 50 series. 
The student team are also looking to reimburse travel costs for participants via their GoFundMe page, which can be found on the site by searching for NetworkBU. Audiences can also follow the debate via social media by using the hashtag #NetworkBU, or can view the video on YouTube.