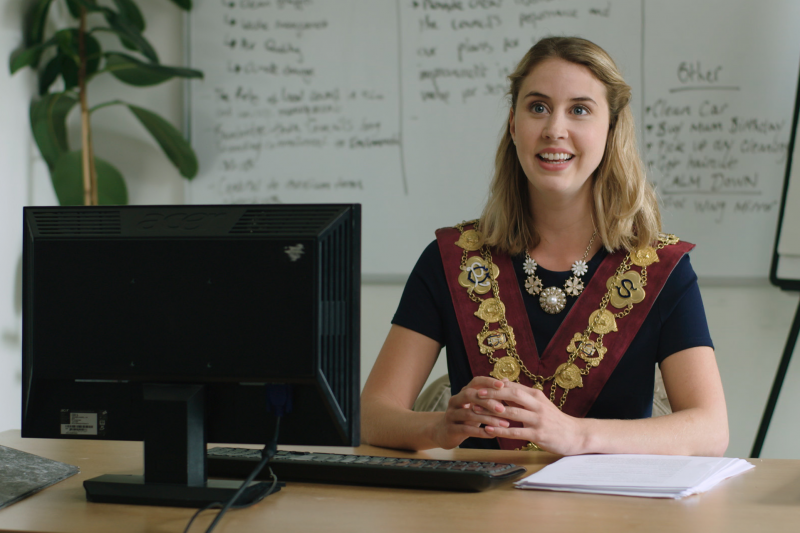 Two BU alumni, Gulliver Moore and Ollie Clubb, have recently been commissioned to write and direct a sitcom for Sky TV around how Brexit has affected communities, and provoked discussion over British culture and identity. 
The Sky Arts' 'Art 50' scheme aims to look at how Britain looks and feels in 2019, with debates over national identity springing forth in the wake of Brexit, with four special programmes broadcast across the month. 
Titled 'Small Town Politics', Gulliver and Ollie's series follows the work of a young mayor in a fictional town, as she is confronted with an apathetic local council and unimpassioned constituency. The story, which takes inspiration from Gulliver's own family – his brother, at 21, was the youngest mayor of the town of Frome in Somerset – and is set against the backdrop of post-Brexit Britain. 
Speaking to Sky News about the sitcom, Gulliver, who graduated BA Television Production at BU in 2013, said: "My brother was the mayor of the town we grew up in at 21 and I always thought that would make such a good film. When the opportunity came along, we brushed the dust off and it was a long process of scripting, editing. 
"Me and my writing partner Ollie Clubb wrote the story outlines and characters and then we found a fantastic writer, Jenny Bates, who came in with a fresh perspective and wrote all of the dialogue. 
He added: "We didn't set out to create something in-particular, we just wrote what we knew. I come from a small town in the countryside and it's my kind of humour, so that's what came out, I guess."
Small Town Politics - Sky News Interview from Gulliver Moore on Vimeo.
The Sky Arts series consists of four programmes running over the course of the week, beginning with The Sound of Britain on Monday 25 March, and ending on Thursday with The Voice of Britain. 
The news comes as current BU TV Production students prepare to go live with a Brexit broadcast on Friday 29 March, the intended date of Britain's departure from the EU. 
You can read more about Sky's Art 50 scheme at www.skyartsart50.tv