Edward Weeden, TeamBU athlete and SportBU Scholar, has won Gold at the BUCS Trampoline Championships.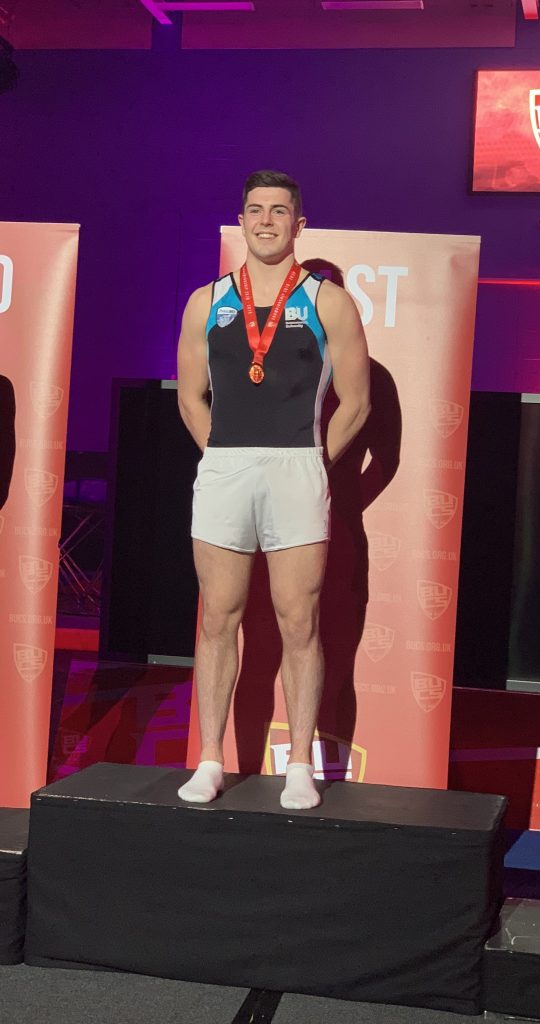 Competing in the University of Birmingham's sports complex on 31st March, Ed came into the competition as the defending champion having won gold at the 2018 Championships.
After a nervy qualifying round and squeezing into the final, Ed performed to his absolute best to take 1st place by five whole marks and win some vital BUCS points for Bournemouth University.  Commenting on his performances, Ed said: "No matter what had happened, I know that I had performed the best that I could, and was so proud of that. My finals routine would have qualified me for the British Championships which is my aim this season so I feel absolutely ecstatic with that routine!".
He went on further to say: "I just want to thank OLGA and SportBU for their support. Being able to train and become apart of OLGA has been fantastic, as well as receiving support through the Sport Scholarship Programme at SportBU!".  
Great Britain Coach, Brian Camp, who leads Edwards training remarked: "In terms of Edwards performance last weekend, I am happy with the result and his Final Routine. This competition has served as a good pre-comp for Edward before his English and British Qualifying events in the next month. In these competitions, it is the prelim score which is important (Routine 1 and 2). This is where ed fell down at the weekend, so it has highlighted we need to do more work on delivering these routines back to back. The university session has allowed Edward to train more and have time to isolate specific skills to make improvements."
Watch Ed's routine on Instagram.
Warm-Up
Warm-up for the competition went very well, the routines were solid and I felt confident going into the competition with the standard of my routines. All though I was nervous with the expectations looming over me, the trampoline was good and had a lot of power.
Preliminary Routines
My first routine was very successful and put me into 1st place, although it wasn't the best routine I've done, it was strong and centred on the trampoline. I felt confident with my next routine as my warm-ups had been successful. The next routine, my voluntary routine, had started well with the first 3 moves centred and I was happy. However, annoyingly I travelled my fourth move all the way to the edge of the trampoline and from this point onwards the routine becomes a bit of a recovery, but I did complete all 10 moves meaning there was a chance to get into the final. Waiting to find out whether I made it into the final was brutal as only the top eight make it through. I had incurred a 2 point deduction for my second routine and I started in 4th position after the first flight. Yet, as the second flight continued, my position slowly went down to 8th to just about scrape me into the final.
Finals routine
Buzzing to be given a second chance and having nothing to lose being in 8th place, I got ready for my final's routine. I used my nerves and just said to myself "I've done this routine plenty of times, now just go and perform it", so I got on the trampoline and I performed my routine. Almost every single move stayed in the middle, I was calm throughout and it was most likely one of the best voluntary routines I have ever performed. Ecstatic with my performance I could barely stop smiling and was so pleased to be able to perform my routine the way I know I can. I came away knowing that no matter what happened with the scores I would be happy because I had performed my routine to my best. However, I received 7.8/10 for my execution, 9.9/10 for my displacement and 14.2 for my difficulty which is the highest ever difficulty I have completed in a major competition. These scores would have qualified me for the Senior British Championships for which the qualifier is in 5 weeks' time. I received the 1st place medal by 5 overall marks meaning I was the two-time BUCS British champion and could not have been more pleased.
Congratulations Ed on becoming two-time BUCS Champion!