​BU athletes and Sports Scholars Issa Batrane and Liam Mcgarry have been named as finalists in the 2019 TASS Star Awards.
Issa, a TeamGB and TeamBU beach volleyball player, has been nominated in the 'Most Determined' category while Liam, a para powerlifter, has been put forward as 'Most Inspirational' athlete of the year.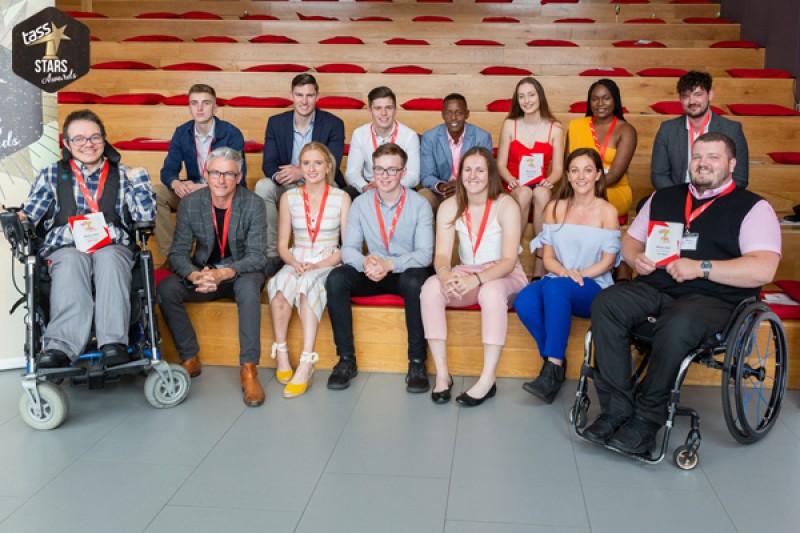 BU sports stars Issa Batrane (second row, centre) and Liam Mcgarry (front row, far right) with the TASS 2019 finalists. Image courtesy of www.tass.gov.uk
Issa and Liam are among 15 TASS-supported athletes that have been named in recognition of their achievements – both in their sport and studies – over the last year.
Nominations were made by the national governing bodies for each sport across the five TASS categories of: 'Most Determined', 'Most Inspirational', 'Most Committed', 'Most Potential' and 'Athlete of the Year'.
An independent panel of judges including triple jump world record holder, Jonathan Edwards, Olympic medallist Samantha Murray and 2018 TASS Star of the Year winner, Maria Tsaptsinos, have now been tasked with determining the five winners.
The panel will join senior representatives from the TASS network at the TASS 15th anniversary reception on Wednesday 26 June. The winners will be revealed and presented with a TASS Stars Awards prize.