Bournemouth University (UK) supports Chinese partners to deliver sports management education and research.
For four consecutive years, Bournemouth University has been supporting change in China, working with the Federation of University Sport of China (FUSC), China Scholarship Council and the British Council in China, to professionalise football coaching as China looks to become a major power in the football arena. 
BU works alongside Premier League football team AFC Bournemouth and the Dorset FA to deliver training to cohorts of 60 Chinese football coaches, who come to Bournemouth each summer to receive football coaching to ensure the next generation of Chinese footballers receive cutting edge training techniques.
China's ambition to win the football World Cup by 2050 is underpinned by upskilling the coaching available at gross roots level.   To date, 240 coaches have completed the coaching programme in Dorset, returning back to pass on that knowledge in schools and universities across China.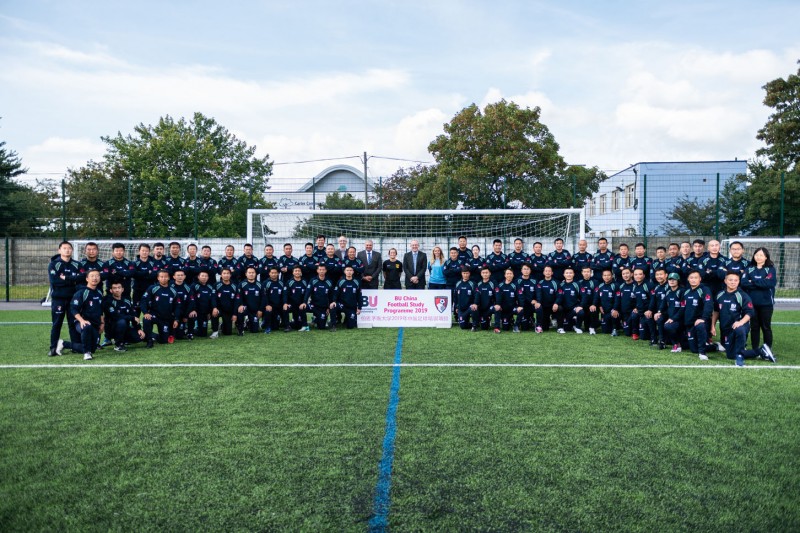 Jim Andrews, Chief Operating Officer at Bournemouth University, said, "We are delighted to be the only university chosen four years running to host this programme, underlining the quality of our education, alongside partners AFC Bournemouth and the Dorset FA. Each year we have welcomed Chinese coaches onto our campus to support their development and I have been continually impressed with their dedication and hard work. This year is no different as we further our links in China and support the future development of football talent in Asia."
This programme is only one area in which BU is supporting the sports management industry in China.
Gary Evans, a Senior Lecturer in Sports Management at Bournemouth University, has been appointed as a Visiting Professor in Sports Management at Southwestern University of Finance and Economics (SWUFE) in Chengdu, China, in-country to deliver short courses to students.
This work underpins the research completed with SWUFE, exploring professional development opportunities for Chinese sports managers. Gary has also presented this research on the Chinese sports economy at a prestigious international conference in China.
BU's expertise also extends to sports reporting through collaboration with Communications University of China, (CUC) a top ranked university based in Beijing.  A number of students and Professors visited Bournemouth University this summer to receive sports journalism training from BU experts, led by Professor Stephen Jukes, including meetings with the BBC and The Guardian media outlets in London.
Bournemouth University continues to invest in its sporting infrastructure in the UK, with the purchase of a 65-acre sporting venue, to further the facilities available to sporting students from around the world. These enhanced facilities will ensure BU continues to support future international sports training programmes, meeting the needs of professionals and students from China and beyond in developing further sports training.
For more information about Bournemouth University's links with China, visit https://www.bournemouth.ac.uk/study/international/bu-your-country/china